• altar work • light settings • setting lights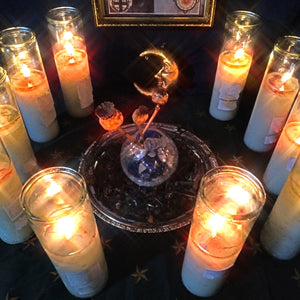 Vigil light setting services now come with two different options at Seraphin Station. You can book a light setting with a full one-page report with photos and interpretation, or you can just book a light setting with a photo if you don't want or need a typed report. I'm also experimenting with a subscription service. I can just about guarantee something with it will not behave the way I expect because that's just how this goes, so let me know if you have any questions or run into any problems.
---
• community altar work • get a job • honey jars • jupiter • light settings • love • love drawing • mercury • mercury retrograde • money • st. anthony • success
Community Honey Jars June community honey jars begin Monday, June 14th. There's one for love/relationships and one for prosperity/income (which is Pay What You Can). I've set it up where you can book through Etsy, too, through the process is a bit clumsier and less straightforward there, sorry to say.   Planetary Work Mercury Retrograde remediation and the Lucky Stars Sweet Jar for Jupiter in Pisces both have "rolling enrollment," meaning you can join  in at any time during the transit as long as you see spots still open, as I'll be working some aspect or phase of these continuously.     St. Anthony of Padua 9-Day Service...
---
• altar work • community altar work • honey jars • light settings • news\ • setting lights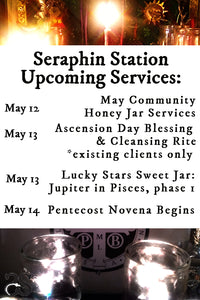 Sorry to get this reminder out so late, but it's been raining heavily again, and rain at Seraphin Station usually means no reliable internet at Seraphin Station, sigh…   Anyway, as usual, I'm doing one honey jar for issues related to relationships (and they don't have to be romantic relationships) and another for prosperity/career/income. Since COVID has brought such massive change and instability to so many people's lives and and income situations, I've been offering the prosperity honey jar as a pay-what-you-can service. Work starts tonight, the 12th, but there is a little wiggle room and you can join up late as long...
---
• community altar work • light settings • st. joseph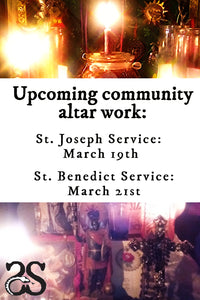 St. Joseph's intercession is sought to help with all kinds of matters relating to home, family, and jobs/business. He can be called upon to help you sell your house, help you remodel, and to help carpenters and others who work with their hands. He's particularly known for going to bat for fathers, though he absolutely is an ally for mothers as well (and speaking as someone who was a single mother with sole custody for 18 years who never received a cent of child support, if you're wearing all the parenting hats at once, St. Joseph is definitely your friend...