• angels • law keep away • protection • questions you've asked • st. michael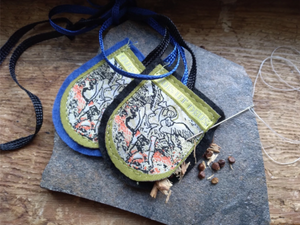 A client is getting set up with some Law Keep Away work, some of which involves physical items being installed at the front entrance where a St. Michael paket has been living. She wonders if she needs to move/remove St. Michael, whom she petitions for physical and spiritual protection, since he's "the patron saint of police and general law and order guy." What a great question! Short answer, no. No need to remove St. Michael. Longer answer explaining my rationale: for one, human beings declared him the patron saint of law enforcement – he didn't proclaim himself that lol… and...
---
• client education • law keep away • psa • self-sabotage
Pro tip: the drawing power of the Busted Tail Light Law Attracting Charm is generally stronger than the protection power of the flannel Law Keep Away charm. If you're going to bother with a Law Keep Away charm, slow your roll for a minute and make sure you're not also carrying something that can negate or overpower it. In addition to the Busted Tail Light, that includes the following Law Attracting charms, amulets, and words of power: the "Non-functional Tag Light" charm the "IDK When to Shut My Mouth" chant the "I Hang Out With Stupid MFers" talisman the Subwoofer...