• altar work • community altar work • lucky stars • prosperity • prosperity jar • protection • relationship work • reversing • saint lucy • spell work • sweet jar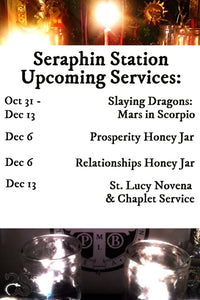 Lots of radio silence lately due to dealing with some chicken issues; getting hit with a round of bot signups I have been learning how to deal with and clean up; the learning curves on the latest apps and integrations to figure out how to make communication channels and order processing as bulletproof as possible; and trying to get caught up on the backlog resulting from communication channels and order processing NOT being bulletproof as of yet. But monthly community altar services for relationships, prosperity, and protection/reversing are still ongoing, and there are still Pay What You Can options for some of...
---
• bracelets • chaplets • clairvoyance • discernment • folk catholicism • folk magic • jewelry • psychic vision • saint lucy • st. lucy • wisdom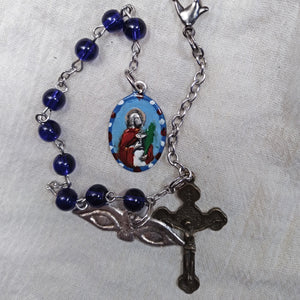 This one of a kind chaplet bracelet is handmade with 5mm sapphire-blue glass beads, an ornate crucifix with a bronze-toned antiqued patina imported from Italy, a silver milagro imported from Mexico, and a holy medal of St. Lucy handpainted in bright and durable enamels.  St. Lucy is petitioned for all kinds of things related to vision and light. She's the patron saint of the blind and also of electricians, and her devotees call on her when they need to see more clearly, whether literally or figuratively.  By extension, she's considered a protector against the evil eye, can be called on...