• altar work • community altar work • folk catholicism • folk saints • services • st. expedite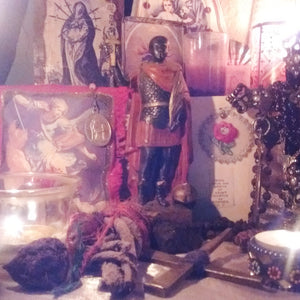 Have a glass-encased vigil light fixed, dressed, blessed, set on my St. Expedite altar, and burned for you in a community altar work service for this famed and beloved patron saint of fast results. St. Expedite's feast day is April 19th, and while you can petition him any day of the year, you might be able to get a little extra bang for your buck on his feast day.  But beyond that, his feast day would be an excellent time to thank him for for previous services rendered if you already work with him but don't have the time/space to do anything...
---
• altar work • conjure • cyprian • folk catholicism • folk saints • hoodoo • rootwork • sorcery • st. cyprian
---
• altar work • booklet • downloads • folk saints • hoodoo • hoodoo education • hoodoo tricks • saint expedite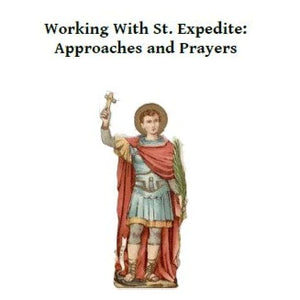 Well, I am super happy to be getting feedback from both experienced practitioners and folks who are new to working with the saints, saying that they found useful and/or interesting stuff in my new St. Expedite booklet. Thanks, creepmouse! I know I didn't do a perfect job of explaining things to an audience new to working with saints, and I'm already aware of a couple of gaps I could fill in a second printing (or just a second booklet, possibly, since this one is pushing the envelope on "pamphlet" at 24 pages long). But I set out to contribute some...
---
• binding • chaplets • folk catholicism • folk saints • gnostic vodou • love • love binding • product news • rosaries • saints • talismans • vodou
Ascension Day cleansing and blessing bath herbs   22nd Lunar Mansion Talisman   St. Gerard/Ghuede Memento Mori chaplet bracelet Snake sheds Ave Mater Dolorosa mini holy card Love Binding Oil
---
• community altar work • folk catholicism • folk magic • folk saints • jesus malverde • pay what you can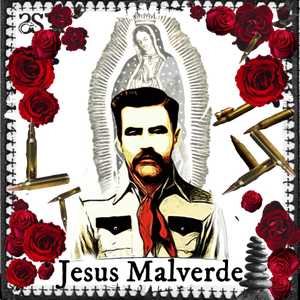 Have a vigil light set and worked on my Jesus Malverde altar in community altar work service beginning on Tuesday, May 3rd, which serves as the feast day of this folk saint. There is some wiggle room and you can join up after the work starts as long as you see that there are still spots left and it doesn't say "sold out." Jesus Malverde, also known as the Angel of the Poor or the Generous Bandit, is a folk saint who is said to have lived and died in late 19th/early 20th century Sinaloa, Mexico. His reputation as a sort of Robin Hood figure began...