• ancestors • hoodoo education • traditions
---
• ancestors • blessing • charms • clairvoyance • clarity • dreaming true • handmade • insight • jewelry • luck • memory • money • protection • psychic vision • road opener • safe travel • scapulars • talismans • wisdom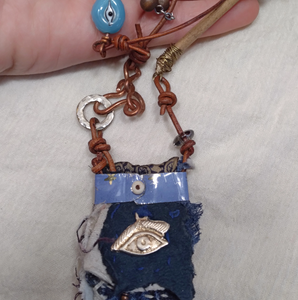 For this amulet necklace, I've basically deconstructed a classic rural Southern-style conjure bag, aka a mojo or toby, and made jewelry out of it.This is backwoods conjure the way it used to be. It's miles away from the shiny city general store with imported spices and soaps and fabrics. This is the part of the country where floorwash is made with chamber lye, not ammonia and certainly not Florida Water. New curtains come from recycled worn-out clothes, and those clothes come from recycled flour and feed sacks.Old barn and field gear provides tiny scraps of leather. Copper, brass, and steel...
---
• ancestors • angelology • angels • canonization • catholicism • communion of saints • cosmology • folk catholicism • folk religion • hoodoo theory • intercession of saints • mystical body of church • ontology • purgatory • religion • saints • st. michael • st. thomas aquinas • theology
I very frequently see folks online say things like this: "Though technically speaking Archangel Michael is not a Saint [sic], sometimes this entity is venerated as one." I'm not linking to the source for that because my goal is not to single anyone out for being wrong. Thing is, this is not an uncommon misperception. It's pretty easy to find multiple websites and blogs that say something to this effect – even those of folks who are otherwise pretty well-versed in folk religion and/or folk magic. If this were just a couple of blogs and not a pretty widespread point...