• community altar work • honey jars • love work • prosperity jar
February community altar work is underway for prosperity/success and love/relationships. As usual, there are pay-what-you-can options for the prosperity/success work. I've also set up 3X Bonus Reward points, in effect now through Tuesday, 31 January. Current clients in good standing who did not visit the private Discord server to learn about the last-minute talisman offering last week: I made a couple of extras. Have a look, and if you want one, let me know in the Discord server so I can set it aside for you. First come, first served.
---
• altar work • compelling love • cyprian • divination • intranquil • love work • necromancy • occult arts • occult studies • protection • psychic vision • reversing • st. cyprian • uncrossing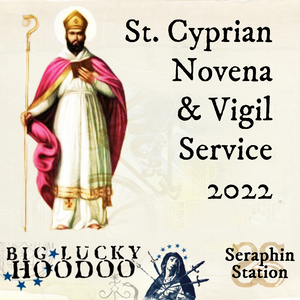 St. Cyprian Service Starts Tonight St. Cyprian Novena and Chaplet Service 2022: Uncrossing, Protection, Psychic Vision, Black Arts, Love Read more about St. Cyprian at Big Lucky Hoodoo. Have your petition set with a fixed, dressed, blessed light on my St. Cyprian altar for a nine-day novena, chaplet, and community altar service for the Cyprianic Holy Days, September 17-25.  I've been working with St. Cyprian of Antioch for almost 20 years now, but until recently, there has been very little information – or material from any of the many grimoires attributed to him – available in English. The past few years have seen...