• altar work • compelling love • cyprian • divination • intranquil • love work • necromancy • occult arts • occult studies • protection • psychic vision • reversing • st. cyprian • uncrossing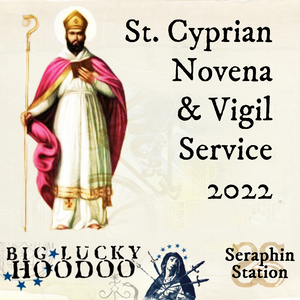 St. Cyprian Service Starts Tonight St. Cyprian Novena and Chaplet Service 2022: Uncrossing, Protection, Psychic Vision, Black Arts, Love Read more about St. Cyprian at Big Lucky Hoodoo. Have your petition set with a fixed, dressed, blessed light on my St. Cyprian altar for a nine-day novena, chaplet, and community altar service for the Cyprianic Holy Days, September 17-25.  I've been working with St. Cyprian of Antioch for almost 20 years now, but until recently, there has been very little information – or material from any of the many grimoires attributed to him – available in English. The past few years have seen...
---
• news • protection • reversing • ritual services • services • upcoming services
Slight changes to how the monthly Protection service works in some cases. You can now book multiple months at once as long as the petition will be staying the same.   2022 Dates   August Aug 13-Sep 8 September Sep 13-Oct 8 October Oct 11-Nov 5 November Nov 10-Dec 6 December Dec 8-Jan 3
---
• altar work • community altar work • lucky stars • prosperity • prosperity jar • protection • relationship work • reversing • saint lucy • spell work • sweet jar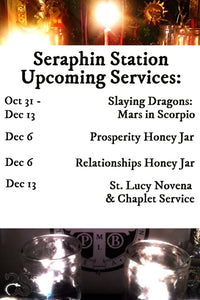 Lots of radio silence lately due to dealing with some chicken issues; getting hit with a round of bot signups I have been learning how to deal with and clean up; the learning curves on the latest apps and integrations to figure out how to make communication channels and order processing as bulletproof as possible; and trying to get caught up on the backlog resulting from communication channels and order processing NOT being bulletproof as of yet. But monthly community altar services for relationships, prosperity, and protection/reversing are still ongoing, and there are still Pay What You Can options for some of...
---
• black destroyer • evil eye • formulas • hoodoo formulas • jealousy • jinx killing • plagiarism • reversing • trick killing • uncrossing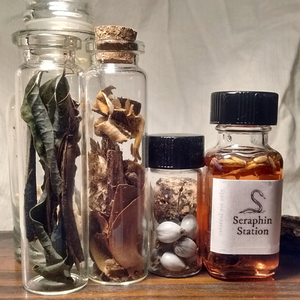 Black Destroyer formulas are designed to help people clear serious messes out of their lives, protect their homes, and stop curses, evil, and resentment dead in their tracks. At least that's basically what the Anna Riva brand bottle said when I bought one 20+ years ago. Imagine my disappointment when I discovered that Alleged Powerful BLACK DESTROYER FOR RITUALS was basically a 4 oz bottle of perfumed mineral oil dyed black. (An oddly sweet perfume, too, given what the formula is supposed to be for.) It was as botanically powerful as a crumpled Pepsi can. Well, I wanted it to...