• new • product news • sales & specials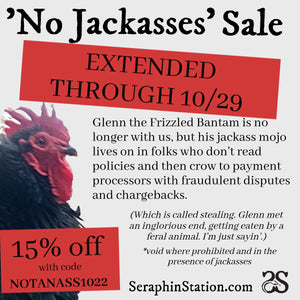 I couldn't get the code to take at Etsy the other day. I finally got it to work, so I extended the sale at the main site too. You can use the code at Etsy or SeraphinStation.com through midnight Central on Saturday the 29th. What's New at Seraphin Station: Working With St. Expedite – Approaches and Prayers, available either in hardcopy or as a digital download. It's gotten some great reviews  22nd Lunar Mansion Talisman Venus in Pisces Talismanic Oil Mercury in Gemini Talismanic Oil Mercury in Gemini Talisman Hoodoo Oils Sampler Sets – some good deals here! and there's a new reward in the Sovereign Rewards...
---
• binding • chaplets • folk catholicism • folk saints • gnostic vodou • love • love binding • product news • rosaries • saints • talismans • vodou
Ascension Day cleansing and blessing bath herbs   22nd Lunar Mansion Talisman   St. Gerard/Ghuede Memento Mori chaplet bracelet Snake sheds Ave Mater Dolorosa mini holy card Love Binding Oil
---
• assholes • etsy • fuckery • news • product news • terms of service
No more custom stuff at Etsy. There are too many histrionic assholes who can't be arsed to read things. They've ruined it for everybody else. You'll have to go to Seraphinstation.com for mojos, kits, etc. as of today, because all custom stuff has now been pulled from Etsy.
---
• angels • archangels • catholicism • chaplets • communion of saints • folk catholicism • intercession of saints • niners • ontology • patron saints • product news • rosaries • saints • st. michael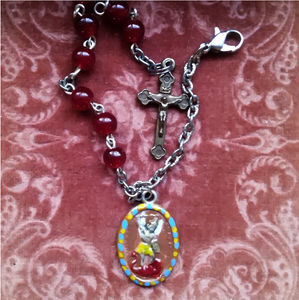 This one of a kind chaplet bracelet is handmade with 5mm ruby red glass beads, an ornate crucifix with a bronze-toned antiqued patina imported from Italy, a chain extension and lobster clasp if you want to wear it or secure it around a statue or rearview mirror, and a holy medal of St. Michael handpainted in bright and durable enamels.  The saintly protector par excellence, Michael is called on to defend against dangers both spiritual and physical and from enemies both known and unknown. Unclasped, this chaplet's length from end to end is 8.75″. Will fit a 7.5″ wrist, but I'm...
---
• new • news • product news
I've implemented flat rate shipping. Just about everything ships for $5 in the U.S. What doesn't ship for $5 ships for $10 (a few large, heavy, and fragile items). See the Shipping Rates page for details. I had a ton of info crammed into the collection page for Saints & Spirits, which meant you had to scroll way down before you could see the items listed, and if you were looking for info on saints and spirits, you wouldn't think to look there. I've reorganized to give that info its own page, called Saints, Spirits, & Hoodoo, and that should...