News — sales and specials
• sales & specials • sales and specials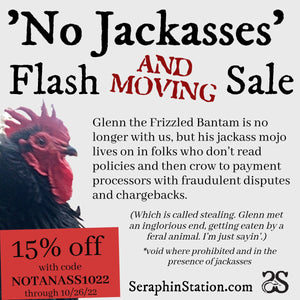 Well, folks, it's that time again - time for me to deny jackasses any more of my mental real estate. It used to really mess up my day when people would fail to read item listings and shipping/handling info before ordering and then file a dispute or leave crappy feedback because they were oblivious to what they signed up for by ordering something from me. But sadly, there are lots of folks like that, and I eventually decided that life was too short to have a messed up day because of them. So now when I'm forced to deal with...
---
• blessing • childbirth • folk medicine • fourteen holy helpers • healing • medieval christianity • medieval legends • mental illness • nightmare • panic • pets • plague • products • safe travel • sales and specials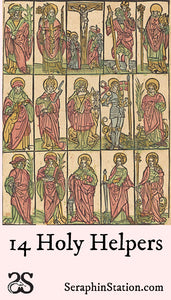 The Fourteen Holy Helpers are saints or holy figures who were petitioned in medieval Europe during the terror of the Black Death. Also known as the "auxiliary saints," they were called on as a group for protection from a variety of illnesses and troubles that would strike both people and animals. Their popularity continues to this day. While you will occasionally see variations in a few of the names depending on region, the "standard" 14 Holy Helpers and their particular areas of specialty are as follows: Agathius - headache, agonizing pain Barbara - fever, sudden death, fire Blaise - illnesses of...