• chicken feet • folk magic • folk medicine • louisiana folklife
---
• chicken feet • folk magic • folk medicine • louisiana folklife
---
• chicken feet • folk magic • folk medicine • louisiana folklife
Not every chicken foot charm - not even every Louisiana-specific chicken foot charm - matches the vibe that is probably most familiar to folks, the style that I am most often asked to make by clients and customers. Those tend to be focused on protection and reversing, come in bright or strong colors, and be festooned with shiny bits, feathers, and beads.But here's an example from Southeastern Louisiana focused more on spiritual cleansing, you could say, or you could even call it a sort of tool for the spiritual equivalent of climate control and air purification. It has a benevolent...
---
• conjure • conjure art • folk magic • handmade • hoodoo • hoodoo rosaries • jewelry
---
• community altar work • folk catholicism • folk magic • folk saints • jesus malverde • pay what you can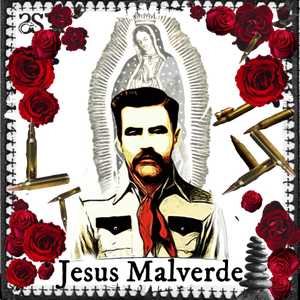 Have a vigil light set and worked on my Jesus Malverde altar in community altar work service beginning on Tuesday, May 3rd, which serves as the feast day of this folk saint. There is some wiggle room and you can join up after the work starts as long as you see that there are still spots left and it doesn't say "sold out." Jesus Malverde, also known as the Angel of the Poor or the Generous Bandit, is a folk saint who is said to have lived and died in late 19th/early 20th century Sinaloa, Mexico. His reputation as a sort of Robin Hood figure began...