• ancestors • blessing • charms • clairvoyance • clarity • dreaming true • handmade • insight • jewelry • luck • memory • money • protection • psychic vision • road opener • safe travel • scapulars • talismans • wisdom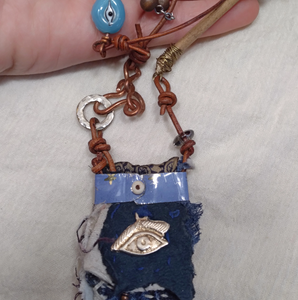 For this amulet necklace, I've basically deconstructed a classic rural Southern-style conjure bag, aka a mojo or toby, and made jewelry out of it.This is backwoods conjure the way it used to be. It's miles away from the shiny city general store with imported spices and soaps and fabrics. This is the part of the country where floorwash is made with chamber lye, not ammonia and certainly not Florida Water. New curtains come from recycled worn-out clothes, and those clothes come from recycled flour and feed sacks.Old barn and field gear provides tiny scraps of leather. Copper, brass, and steel...
---
• community altar work • get a job • honey jars • jupiter • light settings • love • love drawing • mercury • mercury retrograde • money • st. anthony • success
Community Honey Jars June community honey jars begin Monday, June 14th. There's one for love/relationships and one for prosperity/income (which is Pay What You Can). I've set it up where you can book through Etsy, too, through the process is a bit clumsier and less straightforward there, sorry to say.   Planetary Work Mercury Retrograde remediation and the Lucky Stars Sweet Jar for Jupiter in Pisces both have "rolling enrollment," meaning you can join  in at any time during the transit as long as you see spots still open, as I'll be working some aspect or phase of these continuously.     St. Anthony of Padua 9-Day Service...
---
• community altar work • dangerous jobs • folk belief • folk catholicism • folk magic • folk religion • folklore • jesus malverde • latin american culture • mexico • money • narco saints • poverty • prosperity • protection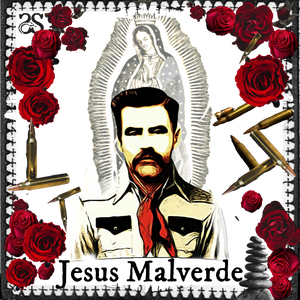 Have a vigil light set and worked on my Jesus Malverde altar in community altar work service beginning on Monday, May 3rd, which serves as the feast day of this folk saint. There is some wiggle room and you can join up after the work starts as long as you see that there are still spots left and it doesn't say "sold out." Jesus Malverde, also known as the Angel of the Poor or the Generous Bandit, is a folk saint who is said to have lived and died in late 19th/early 20th century Sinaloa, Mexico. His reputation as a sort of Robin Hood figure began...