• attract good luck • change luck • creativity • divination • good luck • inspiration • intuition • jupiter • jupiter in pisces • luck • lucky stars • make it happen • neptune
Jupiter and Neptune co-rule Pisces, and their meeting up together in that sign is a rarity. The last time Jupiter was conjunct Neptune in Pisces was in 1856, the year Nikola Tesla, Booker T. Washington, Sigmund Freud, L. Frank Baum, John Singer Sargent, George Bernard Shaw, and Robert Peary were born. As a free supplement to the fourth and final phase of the Lucky Stars Sweet Jar service going on now, I'm setting lights on it today to make the most of this transit for the service participants. (If you'd like to have a light and petition set for this, you...
---
• attract good luck • attraction • change luck • charms • church of good luck • good luck • good luck charms • luck • lucky charms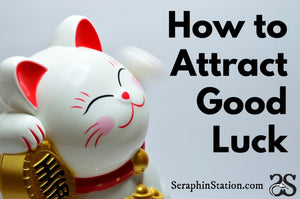 In How to Attract Good Luck: Four Secrets Backed by Research, Eric Barker covers the findings of psychologist Richard Wiseman on bad luck, good luck, and whether we have any control over any of it. Some of the findings may surprise you, no matter where you are along the spectrum between the cold, hard, and empirical and the warm, fuzzy, and woo-woo. A few takeaway bits: Some people do tend to be luckier than others, but we *can* change our luck. And believing that is a critical component of "being lucky." Other components include these: Taking chances and trying new things. Acting on...