• altar work • chaplets • community altar work • cyprian • divination • necromancy • novena • occult arts • occult studies • protection • psychic vision • spiritual cleansing • st. cyprian • uncrossing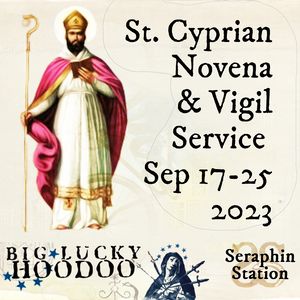 Read more about St. Cyprian at Big Lucky Hoodoo. Have your petition set with a fixed, dressed, blessed light on my St. Cyprian altar for a nine-day novena, chaplet, and community altar service for the Cyprianic Holy Days, September 17-25.  I've been working with St. Cyprian of Antioch for almost 20 years now, but until recently, there has been very little information – or material from any of the many grimoires attributed to him – available in English. The past few years have seen an explosion of interest and information across numerous "occult subcultures" and some really smart people translating, publishing, and talking...
---
View this post on Instagram A post shared by Seraphin Station (@seraphinstation)
---
• new
---
• ghost hound • ghost hounds • music
---
Well, folks, it's that time again – time for me to deny jackasses any more of my mental real estate. It used to really mess up my day when people would fail to read item listings and shipping/handling info before ordering and then file a dispute or leave crappy feedback because they were oblivious to what they signed up for by ordering something from me. But sadly, there are lots of folks like that, and I eventually decided that life was too short to have a messed up day because of them. So now when I'm forced to deal with...