If you're a current client (meaning you've got a service booked with me, are having spiritual work done, are participating in the community honey jar services, have a reading or consultation booked with me, etc.), head to the Discord server for a talisman opportunity. It might be especially of interest to you if you need to protect assets, if you live in a sketchy neighborhood, if you're in a brand new relationship (to include friendship), or if you have to lie for a living or have to be less than honest with some agency or entity in the near-ish future.If...
---
• binding • chaplets • folk catholicism • folk saints • gnostic vodou • love • love binding • product news • rosaries • saints • talismans • vodou
Ascension Day cleansing and blessing bath herbs   22nd Lunar Mansion Talisman   St. Gerard/Ghuede Memento Mori chaplet bracelet Snake sheds Ave Mater Dolorosa mini holy card Love Binding Oil
---
• ancestors • blessing • charms • clairvoyance • clarity • dreaming true • handmade • insight • jewelry • luck • memory • money • protection • psychic vision • road opener • safe travel • scapulars • talismans • wisdom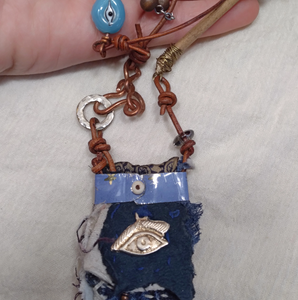 For this amulet necklace, I've basically deconstructed a classic rural Southern-style conjure bag, aka a mojo or toby, and made jewelry out of it.This is backwoods conjure the way it used to be. It's miles away from the shiny city general store with imported spices and soaps and fabrics. This is the part of the country where floorwash is made with chamber lye, not ammonia and certainly not Florida Water. New curtains come from recycled worn-out clothes, and those clothes come from recycled flour and feed sacks.Old barn and field gear provides tiny scraps of leather. Copper, brass, and steel...
---
• amulets • charms • chicken feet • curios • folk art • folk magic • hoodoo • mardi gras • talismans
[Remember, this blog here at the shop address is a mirror / backup of the real Seraphin Station blog here. Visit there to comment, ask questions, get responses, interact with others, see useful and interesting links and resources, and/or read all the blog posts, not just the highlights I repost here.] Good old chicken feet curios, a probably-New-World invention – at least in the painted, decorated iterations -- that people nevertheless like to claim have been used in all kinds of magical traditions all over the globe for *centuries,* for everything from love to money to hexing the crap out...