• blessing • influence • luck • peace • peaceful home • reconciliation • sacred heart • saint of the month • saint of the month box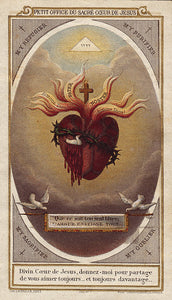 Last Friday was the Feast of the Sacred Heart. I wrote this post on Friday but didn't manage to actually, er, post it :) Anyway, that feast is dedicated to the Sacred Heart of Jesus, so familiar a symbol that even non-Catholics tend to recognize it. Usually pictured as a flaming heart crowned with thorns, and often featuring a cross and a wound and/or droplets of blood, the Sacred Heart is a symbol of Jesus' patient and eternal love and compassion for humanity. Devotion to the Sacred Heart is often practiced to obtain grace, mercy, a peaceful home, consolation in grief, blessings, compassion, and...
---
• blessing • childbirth • folk medicine • fourteen holy helpers • healing • medieval christianity • medieval legends • mental illness • nightmare • panic • pets • plague • products • safe travel • sales and specials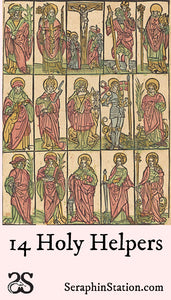 The Fourteen Holy Helpers are saints or holy figures who were petitioned in medieval Europe during the terror of the Black Death. Also known as the "auxiliary saints," they were called on as a group for protection from a variety of illnesses and troubles that would strike both people and animals. Their popularity continues to this day. While you will occasionally see variations in a few of the names depending on region, the "standard" 14 Holy Helpers and their particular areas of specialty are as follows: Agathius - headache, agonizing pain Barbara - fever, sudden death, fire Blaise - illnesses of...
---
• ancestors • blessing • charms • clairvoyance • clarity • dreaming true • handmade • insight • jewelry • luck • memory • money • protection • psychic vision • road opener • safe travel • scapulars • talismans • wisdom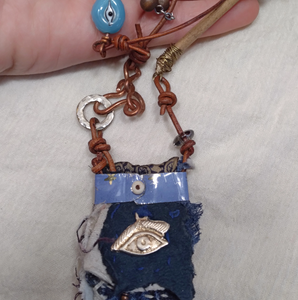 For this amulet necklace, I've basically deconstructed a classic rural Southern-style conjure bag, aka a mojo or toby, and made jewelry out of it.This is backwoods conjure the way it used to be. It's miles away from the shiny city general store with imported spices and soaps and fabrics. This is the part of the country where floorwash is made with chamber lye, not ammonia and certainly not Florida Water. New curtains come from recycled worn-out clothes, and those clothes come from recycled flour and feed sacks.Old barn and field gear provides tiny scraps of leather. Copper, brass, and steel...
---
• angelic crown • angels • blessing • chaplets • product news • protection • rosaries • st. michael
Call on the blessings and protection of St. Michael and the nine choirs of angels with this one-of-a-kind Angelic Crown chaplet, aka Chaplet of St. Michael. Czech glass Pater beads in iridescent blues crystal clear pressed glass Ave beads cast bronze reproduction of an antique Latin American rosary center cast bronze reproduction of an antique St. Michael holy medal [Remember, this blog here at the shop address is a mirror / backup of the real Seraphin Station blog here. Visit there to comment, ask questions, get responses, interact with others, see useful and interesting links and resources, and/or read all the...
---
• balm of gilead • biblical oils • blessing • coffee at midnight • mailing list • news • preschoolers are philistines • queen esther • reviews and testimonials • song of solomon
Some of y'all testers and critics are really mean! Coffee at Midnight smells like coffee, for real, because it contains coffee oil, cold pressed from the seeds of Coffea arabica L. I source the best ingredients I can manage for this formula, and they're expensive. But some of you are not impressed. One reviewer's verdict: "Smells like pumpkin seeds covered in raccoon poop." – Jane, age 4 Get a real job, Jane. (I'm just kidding, sweetie. You're good. And I'd probably be worried about you if you did like coffee at the age of four  ) Fortunately, most adults who appreciate both coffee and...