• altar art • altar work • art • charms • conjure art • folk art • hoodoo tricks • shrines • sneaky tricks • spell work
---
• altar art • community altar work • crossroads • legba • lwa • patron saints • road opening • saint peter • saints • working with saints
Have a light fixed, blessed, dressed, and set on my altar with your petition or prayer and worked in your name or the name of a loved one, in a community altar and prayer service beginning on June 29th, the feast day of St. Peter. St. Peter was appointed by Christ as the first pope of the church, and the keys signify his authority as its first prelate and the authority of the church to bind and loose — basically to open and close the gates of heaven. This is essentially what gives the church the authority to administer the sacrament of reconciliation...
---
• altar art • altar work • altars • prayer • rootwork education • spirituality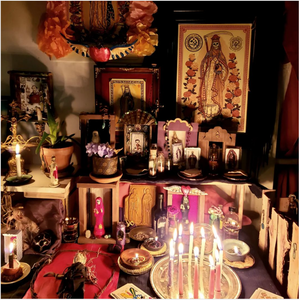 ---
• altar art • altars • patron saints • st. expedite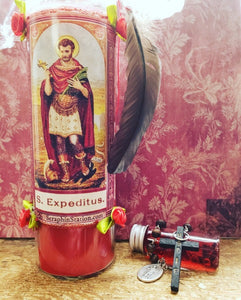 St. Expedite altar in a box – contains almost everything you need to get set up to work with this popular saint, patron of procrastinators, techies, hackers, couriers, travelers, those burdened by red tape and obstacles, and those needing fast luck or money. Standard and deluxe versions available. Both come with a 24-page booklet of instructions and prayers.  Read more or order now at Seraphin Station.
---
• altar art • altars • art • catholic iconography • catholicism • conjure • conjure art • folk art • folk catholicism • folk religion • nichos • ornaments • sacred art • sacred heart
Hand-cut, hammered, and shaped ornament is made with reclaimed tinplate framing this tiny print reproduction of an antique holy card featuring the Sacred Heart. After filing and sanding sharp corners and edges, I embellished it from my stash of vintage, antique, and/or reclaimed fabrics, metals, beads, and trims, including resin rhinestones, vintage lace, a satin rose, a vintage plastic faceted heart charm in a brass frame, and a tiny little curl of dried vine for the crown of thorns.  Available at Seraphin Station.