• angels • biblical oils • esoteric • healing • peace • prophecy • remove curses • reviews • reviews and testimonials • water of life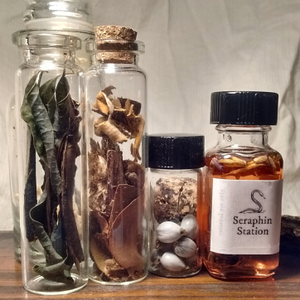 I'm publishing this review because, yeah, it's a great review, but this isn't purely self serving! What's so cool here is they took time to explain how they use it, what particular effects they've seen, what their experience has been, and how they suggest people new to the formula consider using it. This is especially valuable with a formula like Water of Life, which is an original biblical/esoteric oil rather than a traditional hoodoo formula, so there isn't a whole body of already-existing knowledge and tradition and lore surrounding it and its usage. So this kind of first-hand feedback is extra...
---
• bonuses • free stuff • reviews • rewards program • testimonials

Since I screwed up and the news didn't make it from WordPress land to Facebook land until the bonus period was almost over, I extended it through midnight tonight: you can get 2X reward program points for any purchases made at Seraphin Station.You can read more about the rewards program here. It's free to join, it's not complicated, and I am always trying to think up new ways folks can earn points without having to spend money.Reviews and testimonials are a big one. I will give you a ton of points for writing a review or testimonial I can use...