• animals • love • we love animals
---
• binding • chaplets • folk catholicism • folk saints • gnostic vodou • love • love binding • product news • rosaries • saints • talismans • vodou
Ascension Day cleansing and blessing bath herbs   22nd Lunar Mansion Talisman   St. Gerard/Ghuede Memento Mori chaplet bracelet Snake sheds Ave Mater Dolorosa mini holy card Love Binding Oil
---
• altar work • good luck • honey jar • honey jars • jupiter • love • luck • lucky stars • Pisces • prosperity • prosperity jar • relationship work • success • sweet jar • sweetening work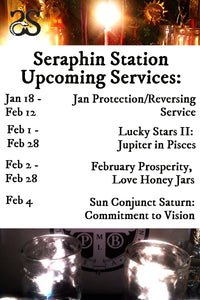 Phase 2 of the Lucky Stars Sweet Jar service for Jupiter in Pisces is now underway. There are pay-what-you-can options because, well, life has honestly just been *insane* the past couple of years, this is an amazing extended "good luck" transit, and if money's a little tight because that's where your luck has taken a beating lately, please feel free to book the reduced rate option; that's what it's there for.     February honey jars for prosperity/success and love/relationships start tonight. There are pay-what-you-can options for the prosperity/success jar, too.     Participants are invited to a private Discord server where I'll post photos and...
---
• community altar work • honey jar • love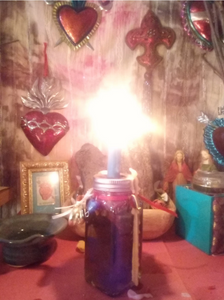 *If you are booking more than one service, or if you're purchasing tangible items in addition to booking services, please check out with each service separately if at all possible. It really makes my life a lot easier if one service = one order number and vice versa. Work begins the evening of Monday, July 12th, so it's ideal to book and have your petition in by then, but there is a little wiggle room and you can book later as long as you see slots still available. This service, focusing on goals related to love, affection, friendship, and relationships,...
---
• community altar work • get a job • honey jars • jupiter • light settings • love • love drawing • mercury • mercury retrograde • money • st. anthony • success
Community Honey Jars June community honey jars begin Monday, June 14th. There's one for love/relationships and one for prosperity/income (which is Pay What You Can). I've set it up where you can book through Etsy, too, through the process is a bit clumsier and less straightforward there, sorry to say.   Planetary Work Mercury Retrograde remediation and the Lucky Stars Sweet Jar for Jupiter in Pisces both have "rolling enrollment," meaning you can join  in at any time during the transit as long as you see spots still open, as I'll be working some aspect or phase of these continuously.     St. Anthony of Padua 9-Day Service...