• honey jars • jesus malverde • mercury remediation • prosperity jar • protection • relationship work • ritual services • saint expedite • services • st. expedite • st. joseph • st. joseph the worker • upcoming services
Current & Upcoming Services I can't get my software to play nice so I can make an updated photo/graphic of altar work services. I'm gonna have to try again tomorrow. But here's a list for now of what's ongoing/upcoming: Relationship honey jar – April 24 – May 19 Prosperity/Success honey jar – April 24 – May 19 Mercury RX remediation – April 21 – May 14 St. Expedite service – April 19 – April 25 St. Joseph the Worker service – May 1 – May 9 Jesus Malverde service – May 3 – May 9 Protection/Reversing service – May 6 – Jun 1
---
• news • protection • reversing • ritual services • services • upcoming services
Slight changes to how the monthly Protection service works in some cases. You can now book multiple months at once as long as the petition will be staying the same.   2022 Dates   August Aug 13-Sep 8 September Sep 13-Oct 8 October Oct 11-Nov 5 November Nov 10-Dec 6 December Dec 8-Jan 3
---
• honey jars • ritual services • services
February honey jars for prosperity/career and love/relationships begin February 2nd.  3X Bonus Reward points are in effect until midnight Central on the 2nd.
---
• altar work • mercury • mercury retrograde • ritual services
If there's one bit of astrology beyond sun sign that everybody knows about, it's probably Mercury Retrograde. This infamous event happens three times a year, and since Mercury rules things like communication, travel, negotiation, legal stuff, contracts and agreements, it can wreak havoc on all kinds of important areas in your life. So stay in bed, wear fuzzy slippers, don't sign anything or buy/sell anything, don't start any new relationships or go on any trips, and for the love of God, don't touch a computer, or Mercury will nuke your life. Or so the popular wisdom in some circles goes, anyway ...
---
• altar work • cyprian • novena • ritual services • st. cyprian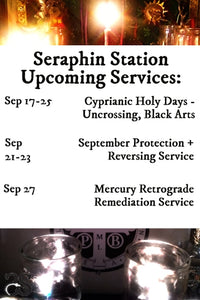 Nine-day novena and chaplet service for the Cyprianic Holy Days begins tonight. Petition St. Cyprian for matters related to the black arts (including necromancy & ancestor work), uncrossing, protection, psychic vision and divination, and yes, as all the old grimoires mention, love as well. Or just introduce yourself if you don't work with St. Cyprian but have been feeling that you're called to. Learn more or book now at Seraphin Station.