View this post on Instagram A post shared by Seraphin Station (@seraphinstation)
---
• honey jars • jesus malverde • mercury remediation • prosperity jar • protection • relationship work • ritual services • saint expedite • services • st. expedite • st. joseph • st. joseph the worker • upcoming services
Current & Upcoming Services I can't get my software to play nice so I can make an updated photo/graphic of altar work services. I'm gonna have to try again tomorrow. But here's a list for now of what's ongoing/upcoming: Relationship honey jar – April 24 – May 19 Prosperity/Success honey jar – April 24 – May 19 Mercury RX remediation – April 21 – May 14 St. Expedite service – April 19 – April 25 St. Joseph the Worker service – May 1 – May 9 Jesus Malverde service – May 3 – May 9 Protection/Reversing service – May 6 – Jun 1
---
• altar work • community altar work • folk catholicism • folk saints • services • st. expedite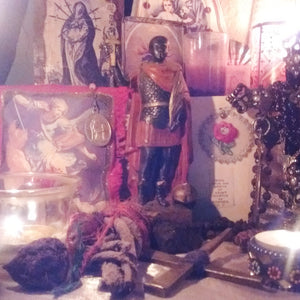 Have a glass-encased vigil light fixed, dressed, blessed, set on my St. Expedite altar, and burned for you in a community altar work service for this famed and beloved patron saint of fast results. St. Expedite's feast day is April 19th, and while you can petition him any day of the year, you might be able to get a little extra bang for your buck on his feast day.  But beyond that, his feast day would be an excellent time to thank him for for previous services rendered if you already work with him but don't have the time/space to do anything...
---
• booklet • patron saints • sacred heart • saint expedite • saint of the month • saint of the month box • saints • st. expedite • working with saints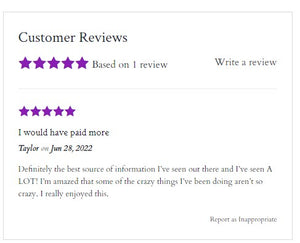 Thanks for the review, Taylor! And you know I want to hear all about those "crazy things" and how you work with St. Expedite in your region and in your personal practice :)  To delve into your own St. Expedite craziness, pick up a copy of my St. Expedite booklet at Seraphin Station. Want a similar book of Catholic conjure on working with the Sacred Heart of Jesus? You can still get the June Saint of the Month Box, which will come with my new booklet on the Sacred Heart.  
---
• altar art • altars • patron saints • st. expedite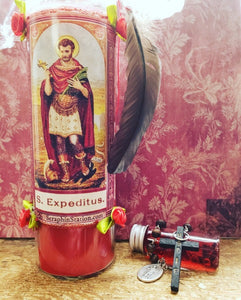 St. Expedite altar in a box – contains almost everything you need to get set up to work with this popular saint, patron of procrastinators, techies, hackers, couriers, travelers, those burdened by red tape and obstacles, and those needing fast luck or money. Standard and deluxe versions available. Both come with a 24-page booklet of instructions and prayers.  Read more or order now at Seraphin Station.