• archangels • days of the week • irish • points chauds • prayer • protection
Resurrecting an old blog post with a few variations on prayers to the seven archangels by days of the week. I could have sworn I had a blog post about lorica here, and I was gonna introduce it in the context of the prayer we usually call the Breastplate of St. Patrick, since that is a type of lorica prayer. But I can't find the blog post I could swear once existed. Maybe it didn't make the livejournal-to-wordpress transition intact… In any case, these are prayers for protection that are uniquely Irish in character and that work in remarkably somatic...
---
• angels • archangels • chaplets • hoodoo • hoodoo rosaries • niners • prayer • st. expedite • st. michael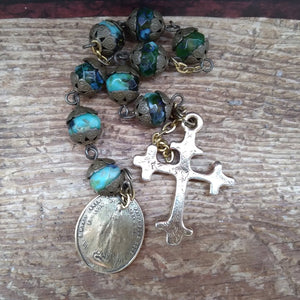 St. Michael Niner Chaplet St. Expedite Chaplet
---
• angels • archangels • gerald of wales • miracles • punitive miracles • saints • st. expedite • st. george • st. michael • working with saints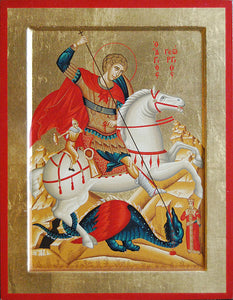 Dusting off this article from 2013 because someone asked about St. Michael and punitive miracles. *** I'm posting this as a blog entry 1. because I can't seem to comment on Cat's blog (maybe she turned off comments or my browser is jacked up), and 2. I don't want to take over her blog with my rambling anyway. Anyway, this is in response to her blog post here. I just want to chime in on the "saints punishing you" thing (if you read this whole thing, you'll see that I am not disagreeing with her – I'm just elaborating). People tend...
---
• angels • archangels • catholicism • chaplets • communion of saints • folk catholicism • intercession of saints • niners • ontology • patron saints • product news • rosaries • saints • st. michael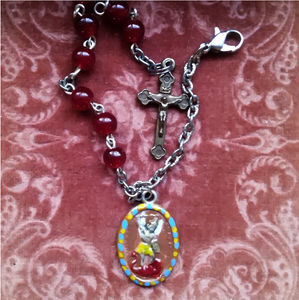 This one of a kind chaplet bracelet is handmade with 5mm ruby red glass beads, an ornate crucifix with a bronze-toned antiqued patina imported from Italy, a chain extension and lobster clasp if you want to wear it or secure it around a statue or rearview mirror, and a holy medal of St. Michael handpainted in bright and durable enamels.  The saintly protector par excellence, Michael is called on to defend against dangers both spiritual and physical and from enemies both known and unknown. Unclasped, this chaplet's length from end to end is 8.75″. Will fit a 7.5″ wrist, but I'm...