• altar art • altar work • art • charms • conjure art • folk art • hoodoo tricks • shrines • sneaky tricks • spell work
---
• attract good luck • attraction • change luck • charms • church of good luck • good luck • good luck charms • luck • lucky charms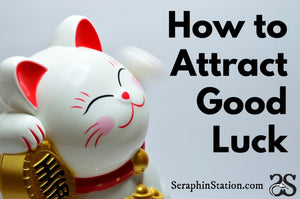 In How to Attract Good Luck: Four Secrets Backed by Research, Eric Barker covers the findings of psychologist Richard Wiseman on bad luck, good luck, and whether we have any control over any of it. Some of the findings may surprise you, no matter where you are along the spectrum between the cold, hard, and empirical and the warm, fuzzy, and woo-woo. A few takeaway bits: Some people do tend to be luckier than others, but we *can* change our luck. And believing that is a critical component of "being lucky." Other components include these: Taking chances and trying new things. Acting on...
---
• ancestors • blessing • charms • clairvoyance • clarity • dreaming true • handmade • insight • jewelry • luck • memory • money • protection • psychic vision • road opener • safe travel • scapulars • talismans • wisdom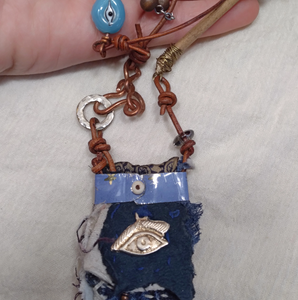 For this amulet necklace, I've basically deconstructed a classic rural Southern-style conjure bag, aka a mojo or toby, and made jewelry out of it.This is backwoods conjure the way it used to be. It's miles away from the shiny city general store with imported spices and soaps and fabrics. This is the part of the country where floorwash is made with chamber lye, not ammonia and certainly not Florida Water. New curtains come from recycled worn-out clothes, and those clothes come from recycled flour and feed sacks.Old barn and field gear provides tiny scraps of leather. Copper, brass, and steel...
---
• amulets • charms • chicken feet • curios • folk art • folk magic • hoodoo • mardi gras • talismans
[Remember, this blog here at the shop address is a mirror / backup of the real Seraphin Station blog here. Visit there to comment, ask questions, get responses, interact with others, see useful and interesting links and resources, and/or read all the blog posts, not just the highlights I repost here.] Good old chicken feet curios, a probably-New-World invention – at least in the painted, decorated iterations -- that people nevertheless like to claim have been used in all kinds of magical traditions all over the globe for *centuries,* for everything from love to money to hexing the crap out...