• binding • chaplets • folk catholicism • folk saints • gnostic vodou • love • love binding • product news • rosaries • saints • talismans • vodou
Ascension Day cleansing and blessing bath herbs   22nd Lunar Mansion Talisman   St. Gerard/Ghuede Memento Mori chaplet bracelet Snake sheds Ave Mater Dolorosa mini holy card Love Binding Oil
---
• african diasporic religion • erzulie freda • folk religion • francophone culture • haiti • religion • social commentary • transpossession • vodou
While I will probably never stop making a little face when anybody refers to the lwa of Vodou as "gods" and "goddesses," this is nonetheless a pretty decent little bite-sized article touching on some aspects of Freda's expressions of femininity.   Nwokocha, Eziaku Atuama. "An Equilibrist Vodou Goddess." Harvard Divinity Bulletin v. 31:3-4 (Summer/Autumn 2013). Harvard Divinity School. Accessed 7 Feb. 2021.
---
• folk art • saints • st. expedite • vodou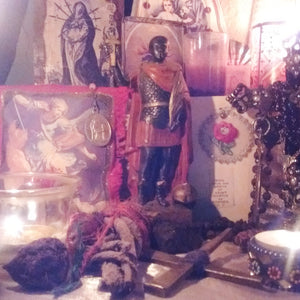 Did you know there was a very active St. Expedite Society in Independence, Louisiana up until very recently? I didn't. Read more at Folklife in Louisiana: "St. Expedito's Role in South Louisiana Catholicism, in New Orleans and in the Italian-American Community near Independence, Louisiana," by Karen Williams. Hindu deities on vodun altars: Rush, Dana. "Eternal Potential: Chromolithographs in Vodunland,"African Arts vol. 32, No. 4 (Winter, 1999), pp. 60-75+94-96. Also helpful more broadly, imo, for any student of folklore/popular religion who's ever encountered an argument about whether Abre Camino is "real hoodoo" or not, wondered what to think about the development of the seven-colors...