• angels • biblical oils • esoteric • healing • peace • prophecy • remove curses • reviews • reviews and testimonials • water of life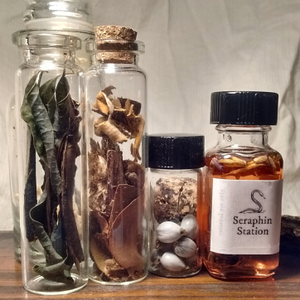 I'm publishing this review because, yeah, it's a great review, but this isn't purely self serving! What's so cool here is they took time to explain how they use it, what particular effects they've seen, what their experience has been, and how they suggest people new to the formula consider using it. This is especially valuable with a formula like Water of Life, which is an original biblical/esoteric oil rather than a traditional hoodoo formula, so there isn't a whole body of already-existing knowledge and tradition and lore surrounding it and its usage. So this kind of first-hand feedback is extra...
---
• balm of gilead • biblical oils • blessing • coffee at midnight • mailing list • news • preschoolers are philistines • queen esther • reviews and testimonials • song of solomon
Some of y'all testers and critics are really mean! Coffee at Midnight smells like coffee, for real, because it contains coffee oil, cold pressed from the seeds of Coffea arabica L. I source the best ingredients I can manage for this formula, and they're expensive. But some of you are not impressed. One reviewer's verdict: "Smells like pumpkin seeds covered in raccoon poop." – Jane, age 4 Get a real job, Jane. (I'm just kidding, sweetie. You're good. And I'd probably be worried about you if you did like coffee at the age of four  ) Fortunately, most adults who appreciate both coffee and...