• altar art • altar work • art • charms • conjure art • folk art • hoodoo tricks • shrines • sneaky tricks • spell work
---
• altar art • altars • art • catholic iconography • catholicism • conjure • conjure art • folk art • folk catholicism • folk religion • nichos • ornaments • sacred art • sacred heart
Hand-cut, hammered, and shaped ornament is made with reclaimed tinplate framing this tiny print reproduction of an antique holy card featuring the Sacred Heart. After filing and sanding sharp corners and edges, I embellished it from my stash of vintage, antique, and/or reclaimed fabrics, metals, beads, and trims, including resin rhinestones, vintage lace, a satin rose, a vintage plastic faceted heart charm in a brass frame, and a tiny little curl of dried vine for the crown of thorns.  Available at Seraphin Station.
---
• amulets • charms • chicken feet • curios • folk art • folk magic • hoodoo • mardi gras • talismans
[Remember, this blog here at the shop address is a mirror / backup of the real Seraphin Station blog here. Visit there to comment, ask questions, get responses, interact with others, see useful and interesting links and resources, and/or read all the blog posts, not just the highlights I repost here.] Good old chicken feet curios, a probably-New-World invention – at least in the painted, decorated iterations -- that people nevertheless like to claim have been used in all kinds of magical traditions all over the globe for *centuries,* for everything from love to money to hexing the crap out...
---
• folk art • saints • st. expedite • vodou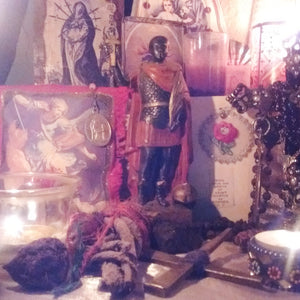 Did you know there was a very active St. Expedite Society in Independence, Louisiana up until very recently? I didn't. Read more at Folklife in Louisiana: "St. Expedito's Role in South Louisiana Catholicism, in New Orleans and in the Italian-American Community near Independence, Louisiana," by Karen Williams. Hindu deities on vodun altars: Rush, Dana. "Eternal Potential: Chromolithographs in Vodunland,"African Arts vol. 32, No. 4 (Winter, 1999), pp. 60-75+94-96. Also helpful more broadly, imo, for any student of folklore/popular religion who's ever encountered an argument about whether Abre Camino is "real hoodoo" or not, wondered what to think about the development of the seven-colors...