• catholicism • chaplets • folk catholicism • rosaries
---
• altar art • altars • art • catholic iconography • catholicism • conjure • conjure art • folk art • folk catholicism • folk religion • nichos • ornaments • sacred art • sacred heart
Hand-cut, hammered, and shaped ornament is made with reclaimed tinplate framing this tiny print reproduction of an antique holy card featuring the Sacred Heart. After filing and sanding sharp corners and edges, I embellished it from my stash of vintage, antique, and/or reclaimed fabrics, metals, beads, and trims, including resin rhinestones, vintage lace, a satin rose, a vintage plastic faceted heart charm in a brass frame, and a tiny little curl of dried vine for the crown of thorns.  Available at Seraphin Station.
---
• angels • archangels • catholicism • chaplets • communion of saints • folk catholicism • intercession of saints • niners • ontology • patron saints • product news • rosaries • saints • st. michael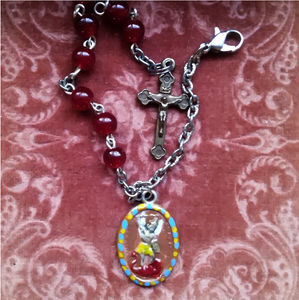 This one of a kind chaplet bracelet is handmade with 5mm ruby red glass beads, an ornate crucifix with a bronze-toned antiqued patina imported from Italy, a chain extension and lobster clasp if you want to wear it or secure it around a statue or rearview mirror, and a holy medal of St. Michael handpainted in bright and durable enamels.  The saintly protector par excellence, Michael is called on to defend against dangers both spiritual and physical and from enemies both known and unknown. Unclasped, this chaplet's length from end to end is 8.75″. Will fit a 7.5″ wrist, but I'm...
---
• anthropology of religion • catholicism • conjureman ali • cultural criticism • folk catholicism • fredrik gregorius • hadean press • hoodoo • latin american culture • literary criticism • llewellyn • manon hedenborg white • paganism • rootwork • santa muerte • santisima muerte • witchcraft • world religions and spirituality project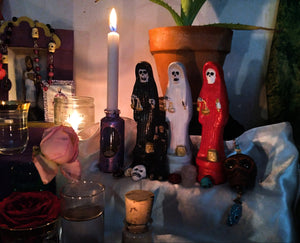 Reminder: this site reposts selections from the main blog. For the most up to date and complete news, follow the main blog instead.  From World Religions and Spirituality Project, here's an interview with Manon Hedenborg White, author of The Eloquent Blood: The Goddess Babalon and the Construction of Femininities in Western Esotericism (Oxford University Press, 2020) and co-author with Fredrik Gregorius of "The Scythe and the Pentagram: Santa Muerte from Folk Catholicism to Occultism" (Religions 8:1, 2017). I think a few different segments of folks who wander by here might find this worth a look. I had originally intended to stop this blog post at the...
---
• ancestors • angelology • angels • canonization • catholicism • communion of saints • cosmology • folk catholicism • folk religion • hoodoo theory • intercession of saints • mystical body of church • ontology • purgatory • religion • saints • st. michael • st. thomas aquinas • theology
I very frequently see folks online say things like this: "Though technically speaking Archangel Michael is not a Saint [sic], sometimes this entity is venerated as one." I'm not linking to the source for that because my goal is not to single anyone out for being wrong. Thing is, this is not an uncommon misperception. It's pretty easy to find multiple websites and blogs that say something to this effect – even those of folks who are otherwise pretty well-versed in folk religion and/or folk magic. If this were just a couple of blogs and not a pretty widespread point...