• honey jars • jesus malverde • mercury remediation • prosperity jar • protection • relationship work • ritual services • saint expedite • services • st. expedite • st. joseph • st. joseph the worker • upcoming services
Current & Upcoming Services I can't get my software to play nice so I can make an updated photo/graphic of altar work services. I'm gonna have to try again tomorrow. But here's a list for now of what's ongoing/upcoming: Relationship honey jar – April 24 – May 19 Prosperity/Success honey jar – April 24 – May 19 Mercury RX remediation – April 21 – May 14 St. Expedite service – April 19 – April 25 St. Joseph the Worker service – May 1 – May 9 Jesus Malverde service – May 3 – May 9 Protection/Reversing service – May 6 – Jun 1
---
• altar work • good luck • honey jar • honey jars • jupiter • love • luck • lucky stars • Pisces • prosperity • prosperity jar • relationship work • success • sweet jar • sweetening work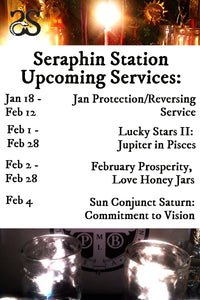 Phase 2 of the Lucky Stars Sweet Jar service for Jupiter in Pisces is now underway. There are pay-what-you-can options because, well, life has honestly just been *insane* the past couple of years, this is an amazing extended "good luck" transit, and if money's a little tight because that's where your luck has taken a beating lately, please feel free to book the reduced rate option; that's what it's there for.     February honey jars for prosperity/success and love/relationships start tonight. There are pay-what-you-can options for the prosperity/success jar, too.     Participants are invited to a private Discord server where I'll post photos and...
---
• altar work • community altar work • lucky stars • prosperity • prosperity jar • protection • relationship work • reversing • saint lucy • spell work • sweet jar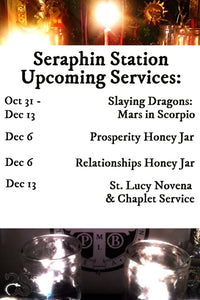 Lots of radio silence lately due to dealing with some chicken issues; getting hit with a round of bot signups I have been learning how to deal with and clean up; the learning curves on the latest apps and integrations to figure out how to make communication channels and order processing as bulletproof as possible; and trying to get caught up on the backlog resulting from communication channels and order processing NOT being bulletproof as of yet. But monthly community altar services for relationships, prosperity, and protection/reversing are still ongoing, and there are still Pay What You Can options for some of...