• all souls • ancestors • catholicism • community altar work • day of the dead • folk catholicism • purgatory • services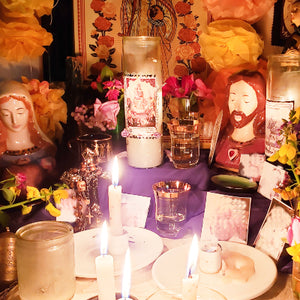 Nine-day vigil, novena, and Chaplet for the Dead service. Have lights set and worked on my altar in a nine-day community altar  service beginning the night of November 2nd, All Souls Day. There is some wiggle room and you can join up after the work starts as long as you see that there are still spots left and it doesn't say "sold out." Along with setting and working lights in the name of your loved one, I will perform a nine-day novena and daily recitation of the Chaplet of the Dead, with appropriate offerings, incense, and other materials. The Chaplet of the Dead is a four-decade rosary that includes prayers...
---
• photos • services • st. benedict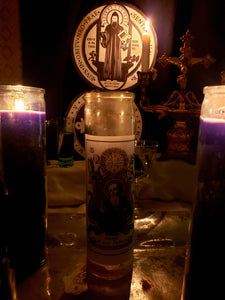 Posted on August 19, 2023 by Karma
---
• honey jars • jesus malverde • mercury remediation • prosperity jar • protection • relationship work • ritual services • saint expedite • services • st. expedite • st. joseph • st. joseph the worker • upcoming services
Current & Upcoming Services I can't get my software to play nice so I can make an updated photo/graphic of altar work services. I'm gonna have to try again tomorrow. But here's a list for now of what's ongoing/upcoming: Relationship honey jar – April 24 – May 19 Prosperity/Success honey jar – April 24 – May 19 Mercury RX remediation – April 21 – May 14 St. Expedite service – April 19 – April 25 St. Joseph the Worker service – May 1 – May 9 Jesus Malverde service – May 3 – May 9 Protection/Reversing service – May 6 – Jun 1
---
• altar work • community altar work • folk catholicism • folk saints • services • st. expedite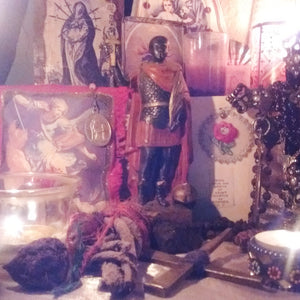 Have a glass-encased vigil light fixed, dressed, blessed, set on my St. Expedite altar, and burned for you in a community altar work service for this famed and beloved patron saint of fast results. St. Expedite's feast day is April 19th, and while you can petition him any day of the year, you might be able to get a little extra bang for your buck on his feast day.  But beyond that, his feast day would be an excellent time to thank him for for previous services rendered if you already work with him but don't have the time/space to do anything...
---
• news • protection • reversing • ritual services • services • upcoming services
Slight changes to how the monthly Protection service works in some cases. You can now book multiple months at once as long as the petition will be staying the same.   2022 Dates   August Aug 13-Sep 8 September Sep 13-Oct 8 October Oct 11-Nov 5 November Nov 10-Dec 6 December Dec 8-Jan 3