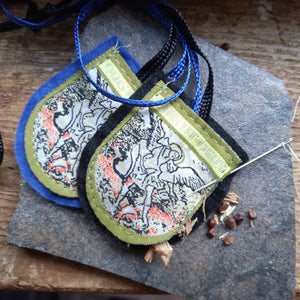 St. Michael Scapular Paket Amulet, Custom Fixed Protection
Regular price
$30.00
$0.00
Unit price
per
Custom-finished St. Michael scapular pakets made in a ritual setting with herbs, curios, powders, prayers, incense, and oils chosen according to traditional associations and your specific petition or prayer request. Use to invoke the blessings and protection of St. Michael for you, your home/space/vehicle, loved ones, whatever you specify when providing your customization info.
As a rule, I try to make these as discreet as possible, meaning customization is "invisible" and concealed inside the fabric itself, including any metal charms, holy medals, etc. If you don't care about that and want your medal or charm attached to the outside instead, mention that in the customization info you provide after checkout. Otherwise everything will be sewn up inside the scapular itself.
Each one is hand-sewn to order, and their creation involves altar work, censing and anointing, prayer etc. as well, so please allow 10 business days' handling time minimum for each custom item. That excludes weekends/holidays. See Shipping page for more info.

These are essentially scapulars-turned-pakets. A paket is something like a mojo bag, only in the tradition I work within, pakets can vary widely in size and shape. They are not usually bags with drawstrings. Rather, they are permanently tied, knotted, sealed, and/or sewn shut as part of the creation and activation, so you can't open it to add anything once you get it. We can discuss personal concerns after you check out, but if you really want to include something, you can always mail it to me to add before I sew it closed.
These are about 23" from end to end with ends held together, with an embroidered patch on both ends, one on a blue felt field and one on black. Made with mixed fabrics that almost certainly have some percentage of synthetic fibers, as I source these in bulk in order to be able to customize them and offer them affordably. Custom scapulars are available if you want all-natural, e.g., or have a wool allergy and need to be 100% sure of the fabric - just write me and we can talk about a custom listing/custom work and pricing.
After you check out, you'll get an automated confirmation. Then go to the Mojo and Paket Intake Form to fill out and submit your personalization info.
Herbs/curios and other ingredients enclosed will vary depending on your petition. I can't guarantee that pets won't like some of them, so please keep this item away from pets (and it's not a children's toy either!)
LEGALESE
: As required by law, all items are sold as curios to preserve and teach the traditions of folklore and popular religion. I don't sell anything I don't use myself, though, and quite a few customers over the years have sworn by my traditional formulas since I started selling them in 2002.
Shipping/Handling/FAQs:
 Please click over to the Shipping/Handling/FAQs tab to read about handling times, shipping notification, and other terms of service, as your use of this site indicates your acceptance of these published terms, which include but are not limited to the following.
By using this site, you are stating that you understand and agree to our Terms of Service, including the following highlights:
handling times start at five business days minimum

 

for all

 

items  (excludes weekends and holidays)

posted handling times are estimates, not guarantees, and will vary depending on order size and amount of customization involved

all sales are final; we do not accept returns

any refunds must be initiated by us; chargebacks are considered theft

we will send a notification email when we purchase your shipping label for your packaged order, so when it's ready to ship, you know as soon as we know

we are not able to provide updates during order processing beyond this notification

any unusual issues affecting handling times will be announced on our website and social media channels

we don't send instructions for anything that doesn't say it comes with instructions, but there's lots of info at the blog
See the TOS page for more details.
---
Share this Product
---