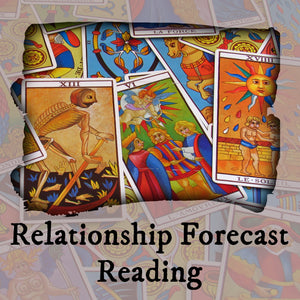 Relationship Forecast Tarot Reading, Email
Regular price
$90.00
$0.00
Unit price
per
Established customers/clients in good standing only, please. See Readings & Consultations page for details.

This extensive email reading identifies the abiding or identifying characteristics and qualities of your relationship, what both of you brought into the relationship with you, how it's affected you, and what the relationship needs to thrive. Then it looks ahead at next steps, what unfolds from them further out, and what your ultimate potential is depending on how you handle the relationship's unique opportunities and challenges.

While this reading could provide useful insight at any stage of a relationship, it's especially suited for examining and helping you understand the underlying beliefs, emotions, or perspectives at work and what you can potentially do with them in an established, long-term committed relationship.

No Fortune-Telling Crap

I don't do "what is the name of my future husband and when will we meet" stuff. I won't tell you your dog's name or what you're wearing. Those aren't useful avenues of inquiry, and playing "test the psychic" is a waste of your time and mine. We're here to help you, not test me. If you feel like you need to test me, that tells me you're still something of a newcomer to all of this and don't get how it all works yet. I would be happy to point you in the direction of some educational materials, but I don't have time to deal with more than about one client like that at any given time. Since I probably already have one, you'll probably be happier booking with somebody else.
If you want a clear, focused reading, you should have a clear, focused issue, and you will save us both a lot of time if you tell me what that issue is. (For more info on this, see the article "How to Get a Lame Reading.")

I do practical, down-to-earth readings that leave you with a clearer picture of your situation and options and empower you to make better decisions for your success and well-being. I have a great deal of experience helping folks see and tackle useless or harmful patterns of behavior, and identify and capitalize on positive patterns and energies. And these work best as conversations, not lectures. So if you're willing to participate in the reading, we'll probably be a good fit.

Limits of Scope
One concern, question, or issue per session. If you have more than one issue or topic, you need more than one reading.

Think of an issue or area of concern rather than bringing in a list of extremely specific questions. I might be asking the cards to tell us how two people feel about each other and what's in store in the short term for them, for example. They might show that there's mutual attraction but one person is very shy so there's a slow start. If you then trot out questions like "but how does he feel about that girl with the red hair" and "will we ever get married," you're asking me to go beyond the scope of the layout in question. That can work for phone or in-person readings, but it does not work for email readings, which are bounded and given structure by the layout that's initially chosen to address the issue. You get the layout you get - I can't keep on pulling additional cards to answer additional questions in an email reading. (Now that still might contain an answer to an additional question in a way - for instance, if the girl with red hair didn't turn up in the spread, she might not be important enough to worry about.)
Feel free to ask if you aren't sure about how to frame your issue or what is reasonable in terms of timeframes. I will absolutely help you structure your question or issue to be as useful as possible if you need help.

After You Book

When you check out, you will receive an automated confirmation that lets you know your order has been received. It will have an order number like "S1225."
Once you've gotten that email and order number, fill out and submit the new reading intake form here. If I have further questions, I'll contact you and ask them. Otherwise, you'll hear from me when it's your turn in the queue.


Waiting Times and Queues for Services
Email readings are done on a first-come, first-served basis. You are reserving a spot in line. I cannot tell you what date your reading will be delivered on because I don't know yet. It depends on what's ahead of you in the queue, among other things, and there's nearly always some back-and-forth involved.
The turnaround time generally ranges from 1-3 weeks. Turnaround times are estimates only. Sometimes the queue is shorter or longer. Sometimes a reading takes more or less time than usual. You can get a general idea of where you are in line at the current services queue at Big Lucky Hoodoo, and that's where I'll post an update if any issues affecting turnaround time come up, like a hurricane or my ISP gunning for Crappiest ISP in North America. If you must have your reading completed by a certain date, do not book this service without contacting me first to be sure I can meet your needs.

Readings are a spiritual service and divination is an art. You are paying for the cost of my time, effort, and energy, so all bookings are final once I have begun work on your case and no refunds can be processed. This includes my reading a long email and taking notes on the information, and it includes the creation and preparation of your client file with birthchart/name/astrological info and case history for the involved parties, which may be prepared well in advance of my finishing your typed report.

If you want to cancel and work has not begun, I'll cheerfully process a refund, but you need to request it and I need to initiate it on this end. Chargebacks are considered theft and will be reported and handled as outlined in the TOS.

By booking this service, you are signifying that you have read, understood, and accept the Terms of Service, especially those emphasized in the Client Agreement re. start and end dates, communication limits, cancellations and refunds, and client privacy guarantees.

---
Share this Product
---