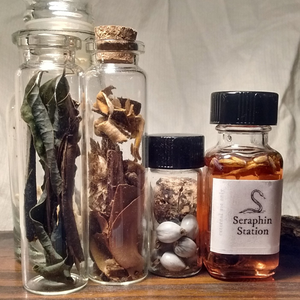 Fourteen Holy Helpers Oil
Regular price
$16.00
$0.00
Unit price
per
The Fourteen Holy Helpers are saints or holy figures who were petitioned in medieval Europe during the terror of the Black Death. Also known as the "auxiliary saints," they were called on as a group for protection from a variety of illnesses and troubles that would strike both people and animals. Their popularity continues to this day.
While you will occasionally see variations in a few of the names depending on region, the "standard" 14 Holy Helpers and their particular areas of specialty are as follows:

Agathius - headache, agonizing pain
Barbara - fever, sudden death, fire
Blaise - illnesses of the throat and protection for domestic animals
Catherine of Alexandria - sudden death, diseases of tongue
Christopher - plague, sudden death, and temptations while traveling
Cyriacus - temptation on one's death bed, eye disease, possession
Denis - headache, demonic possession
Erasmus (aka St. Elmo) - intestinal and stomach troubles
Eustace - family discord and strife, fire
George - domestic animals, boils, lesions
Giles - plague, for good confessions, for the maimed and beggars, epilepsy, mental illness, nightmares, panic
Margaret of Antioch - childbirth, protection from devils, headache, backache
Pantaleon - physicians, midwives, against cancer and TB
Vitus (aka St. Guy)- epilepsy, lightning and storms, protection for animals and from animal bites
I released this oil years ago as part of an expanded line of blessing, uncrossing, and protection formulas, having no idea at the time that we'd one day be facing a sort of modern plague of our own. So I figured now's a good time to make another batch of this stuff.
Use it for any of the above-listed indications, or use it for assistance against more figurative and spiritual ills and problems. Many of these saints were martyrs, so they can help you focus your thoughts on strength and perseverance during times of adversity.
One of those multi-use spiritual oils that's worth keeping in the supply cupboard because one little bottle does so much.

As with all of my oils, this oil is made with respect and devotion to the saints who are called on during its creation, and each bottle is blessed and prayed over before it is sent to you.

Half-ounce bottle.
N.B. Not a medicine and not a substitute for proper medical treatment by a qualified medical practitioner.
USAGE
: Oils are for prayer and ritual use; they are not cosmetics or perfumes. While some customers do use some dressing oils as anointing oils (which is not the same thing as wearing a perfume or cologne), they are careful to do a skin test first, since they know that all-natural does not equal hypoallergenic. If you need suggestions on how to use condition and anointing oils in the conjure tradition, see the Education link up top.
LEGALESE
: As required by law, all items are sold as curios to preserve and teach the traditions of folklore and popular religion. I don't sell anything I don't use myself, though, and quite a few customers over the years have sworn by my traditional formulas since I started selling them in 2002.
Shipping/Handling/FAQs:
 Please click over to the Shipping/Handling/FAQs tab to read about handling times, shipping notification, and other terms of service, as your use of this site indicates your acceptance of these published terms, which include but are not limited to the following.
By using this site, you are stating that you understand and agree to our Terms of Service, including the following highlights:
handling times start at five business days minimum

 

for all

 

items  (excludes weekends and holidays)

posted handling times are estimates, not guarantees, and will vary depending on order size and amount of customization involved

all sales are final; we do not accept returns

any refunds must be initiated by us; chargebacks are considered theft

we will send a notification email when we purchase your shipping label for your packaged order, so when it's ready to ship, you know as soon as we know

we are not able to provide updates during order processing beyond this notification

any unusual issues affecting handling times will be announced on our website and social media channels

we don't send instructions for anything that doesn't say it comes with instructions, but there's lots of info at the blog
See the TOS page for more details.
---
Share this Product
---