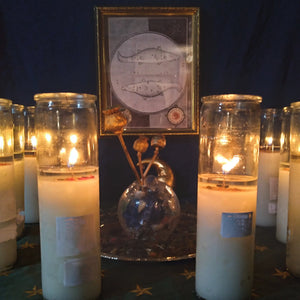 Vigil Light Setting Service
Regular price
$17.00
$0.00
Unit price
per
Have a one-color glass-encased vigil light fixed, dressed, blessed, set on my altars, and burned for you if you can't burn one at home or if you want my "backup" on a working you're doing yourself.
The length of time these commercial vigil lights burn varies, but it's usually about 5 days.
If you need a light to burn continuously for longer than that, book a run of lights. With a run, I fix and dress all your candles at once, but I light them one at a time, lighting candle 2 shortly before candle 1 burns out, for instance. So if you want a classical novena or nine-day burn, book two of these. If you need continuous lights set for 13 days, book three, etc.
If one of your lights behaves very oddly and burns out way quicker than usual, I will be able to prevent lapse in coverage because I tend these several times a day. I'll write you and let you know and we can discuss what this does to your length of coverage and what you prefer to do.

Limits of Scope

These work best with one petition or issue per candle. If you need help crafting a good petition in the hoodoo tradition, see this article (also available via the Education tab up top). Or you can send me your idea / draft of a petition and I can help you fine tune it if necessary (it might not be).

Divination and Reports
Report: While I do divination of the candle if you choose this option - its flame, wax, behavior, the glass itself during and after the burn - this is not like a Tarot reading where you can ask some specific questions and I can give you specific answers. It's more like "looks like clear sailing from here on out" or "your target has some strong protection and you might want to try binding work" or "you should be in pretty good shape after this little rough start at the beginning." This is a full page report with photos and sometimes recommendations, but it's not a multi-page reading getting super-granular about details  :)
Photo Only: If you don't need/want a typed report, you can choose the photo-only option.
If you're looking for more in-depth or complex altar work, you can take a look at available Spiritual First Aid sessions and/or you can book a consultation to have me assess your case for doing more involved altar work on your behalf, such as moving candle spells and more complex effigy work.
Start and End Dates: Limit of Guarantee
If you need your work to start on a certain day, please DO NOT BOOK THIS SERVICE before contacting me to make sure I can meet your needs in terms of scheduling. Any work with a promised delivery or performance date usually has to be put into writing in a formal contract.  Read more at the Client Agreement page.

This service does not guarantee a delivery date for photos/reports. You should expect that it could take me several days beyond the work's conclusion to prepare and send photos and reports. Read more at the Client Agreement page.

Note:
Your booking of this service indicates your understanding of the Client Agreement and acceptance of the Terms of Service, including but not limited to the brief highlights available in the expandable menu below. Please read it so you know what you're signing up for.
---
Share this Product
---