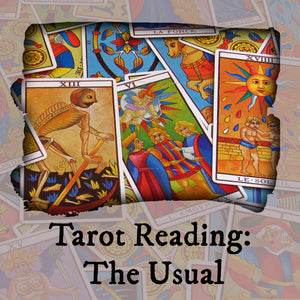 Tarot Reading: The Usual - Email
Regular price
$35.00
$0.00
Unit price
per
Established customers/clients in good standing only, please. See Readings & Consultations page for more info on this.

This email reading covers the overwhelming majority of common queries quite well. It might not do if you want a detailed year ahead reading or a look at what would unfold if you took path A vs B vs C vs D, but barring that kind of depth/breadth, this should be plenty of reading to cover whatever your query is.  (I've been told plenty of times that my three-card readings go into more depth than a lot of other folks' 10-card readings. And this is way more than a three-card reading.)
Now, I will pull a couple of extra cards if necessary - I'm not going to be draconian about the exact number of cards on the table. Your reading will get what it needs to get to do the job. I'm just putting some limits out here to head off bookings for "past life readings analyzing my entire karmic relationship trajectory" or "the family mystery that goes back 17 generations" or "with which of these three guys will I be happiest" type things. Don't try to book this service for questions like that.
But for any sort of regular reasonably-focused query, you should be able to get what you're after out of this one. (Feel free to write and ask first about whether the scope here is appropriate for your situation if you aren't sure.)
No Fortune-Telling Crap

I don't do "what is the name of my future husband and when will we meet" stuff. Those aren't useful avenues of inquiry, and I come from a practical place focused on what you can learn or do to enjoy life and/or change your situation for the better, so I don't see the point of having a reading just to have a thirty-minute session of wish-fulfillment/fantasy role playing. I'm not gonna waste time with that kind of carnival cold-reading fortune-telling crap, and I'm not going to tell you your dog's name or what you're wearing. So if that's what you're looking for, you don't want to book with me.
But if you want a thoughtful, insightful reading and are willing to participate in the reading, I have a great deal of experience helping folks see and tackle useless or harmful patterns of behavior, and identify and capitalize on positive patterns and energies. 
I strive to do practical, down-to-earth readings that leave you with a clearer picture of your situation and options and empower you to make better decisions for your success and well-being. I am blunt when necessary. though I'm not cruel and I never try to belittle my clients or make them feel bad. But if a kid-glove sort of "bedside manner" is something you need in a reader, you might find we aren't a great fit. If you're ready to really get to the bottom of a situation, though, I can help and you can trust me to be honest with you about what I see.
Limits of Scope
You frame the issue or situation you'd like to explore; I choose the best layout to explore it, and those are the cards I lay and what I'm looking at and talking about in my reply. So the reading is bounded by the issue you present at the start (and the  layout I choose) rather than by time, as it would be for a live appointment. If your reading raises a new question or avenue of inquiry, you'll probably need to book a followup if you want to pursue that as well. 
One concern, question, or issue per session. If you have more than one issue or topic, like love life and career, you need more than one reading.

Do not try to squeeze a "life path reading" or a detailed year-ahead forecast out of this, and don't try to sneak in a bunch of stopping points on a long timeline (like "what's it like now, but also in one month, and also in six months, and will his mother ever trust me?") It won't work and it will annoy me. Feel free to write first if you aren't sure about how to frame your question or what is reasonable in terms of timeframes.

The followup option is only for clients who have had a full/regular reading and want to revisit the same topic/issue. You can't book the followup as your first reading.
After You Book

When you check out, you will receive an automated confirmation that lets you know your order has been received. It will have an order number like "S1225."
Once you've gotten that email and order number, fill out and submit the new reading intake form here. If I have further questions, I'll contact you and ask them. Otherwise, you'll hear from me when it's your turn in the queue.


Waiting Times and Queues for Services
Email readings are done on a first-come, first-served basis. You are reserving a spot in line. I cannot tell you what date your reading will be delivered on because I don't know yet. It depends on what's ahead of you in the queue, among other things, and there's nearly always some back-and-forth involved.
The turnaround time generally ranges from 1-3 weeks. Turnaround times are estimates only. Sometimes the queue is shorter or longer. Sometimes a reading takes more or less time than usual. You can get a general idea of where you are in line at the current services queue at Big Lucky Hoodoo, and that's where I'll post an update if any issues affecting turnaround time come up, like a hurricane or my ISP gunning for Crappiest ISP in North America. If you must have your reading completed by a certain date, do not book this service without contacting me first to be sure I can meet your needs.

Readings are a spiritual service and divination is an art. You are paying for the cost of my time, effort, and energy, so all bookings are final once I have begun work on your case and no refunds can be processed. This includes my reading a long email and taking notes on the information, and it includes the creation and preparation of your client file with birthchart/name/astrological info and case history for the involved parties, which may be prepared well in advance of my finishing your typed report.

If you want to cancel and work has not begun, I'll cheerfully process a refund, but you need to request it and I need to initiate it on this end. Chargebacks are considered theft and will be reported and handled as outlined in the TOS.

By booking this service, you are signifying that you have read, understood, and accept the Terms of Service, especially those emphasized in the Client Agreement re. start and end dates, communication limits, cancellations and refunds, and client privacy guarantees.

---
Share this Product
---