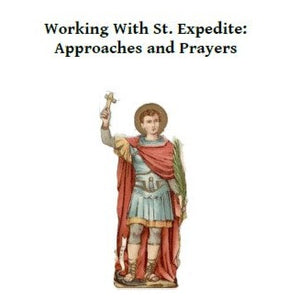 Working With St. Expedite: Approaches and Prayers
Regular price
$5.00
$0.00
Unit price
per
24-page booklet of information and suggestions for working with St. Expedite, based on my research and my experience as a professional rootworker.
If you have read my blog for a minute or perused the Rootwork Education directory, you know I do not just copy/paste the same old crap that's already out there in a million places. I don't waste your time with stuff you've already read 100 times on the back of a candle label or cereal box or *whatever.*  If I don't know something, I say so - I don't just make crap up and try to sell it as The Truth. And I do my best to tell you where things come from - I cite my sources so you can check them out yourself instead of just blindly accepting what I tell you, and I am specific about historical context and geography when applicable.
My research is not confined to English-language sources, and I do my own translations from several languages, so I can just about guarantee that my booklets contain material that you will not have seen before, certainly not on popular English-language blogs, Pinterest boards, and tumblrs. In short, I work very hard at not wasting your time and at sorting the wheat from the chaff and the fact from the fiction. 
The St. Expedite booklet contains an overview, guidance on setting up an altar, a discussion of how to handle offerings, a selection of prayers, and a selection of specific remedies and workings (aka spells). I identify and discuss some bad advice that you'll find on working with St. Expedite and I share prayers and workings from around the world to give you a historically grounded, three-dimensional perspective on this popular folk saint.
---
Share this Product
---