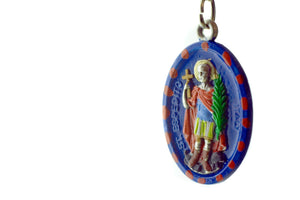 St. Expedite Hand-Painted Holy Medal
Regular price
$25.00
$0.00
Unit price
per
Holy medal of St. Expedite imported from Italy. 1" oxidized silvertone. Hand-painted in enamels and clear-coated after curing. Comes with an 18" ball chain necklace.
Feel free to message if you'd like customized elements or you have questions. It's not usually a big problem to switch out the necklace type if you want something else.

St. Expedite is the patron of procrastinators, computer programmers, and those who need something to happen in a hurry. Call on him to break through blocks and end delays. St. Expedite has been associated variously with Legba, the Baron Samedi, and the Seven African Powers via Ellegua depending on where you are, who you talk to, and what house you're in. Read more about the rich lore surrounding him and other folk saints at our blog.

Medal designs may vary from photos depending on my suppliers. Please write first if you want to confirm I have exactly the style pictured.

LEGALESE
: As required by law, all items are sold as curios to preserve and teach the traditions of folklore and popular religion. I don't sell anything I don't use myself, though, and quite a few customers over the years have sworn by my traditional formulas since I started selling them in 2002.
Shipping/Handling/FAQs:
 Please click over to the Shipping/Handling/FAQs tab to read about handling times, shipping notification, and other terms of service, as your use of this site indicates your acceptance of these published terms, which include but are not limited to the following.
By using this site, you are stating that you understand and agree to our Terms of Service, including the following highlights:
handling times start at five business days minimum

 

for all

 

items  (excludes weekends and holidays)

posted handling times are estimates, not guarantees, and will vary depending on order size and amount of customization involved

all sales are final; we do not accept returns

any refunds must be initiated by us; chargebacks are considered theft

we will send a notification email when we purchase your shipping label for your packaged order, so when it's ready to ship, you know as soon as we know

we are not able to provide updates during order processing beyond this notification

any unusual issues affecting handling times will be announced on our website and social media channels

we don't send instructions for anything that doesn't say it comes with instructions, but there's lots of info at the blog
See the TOS page for more details.
---
Share this Product
---