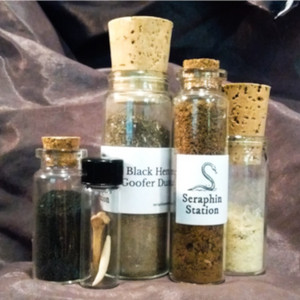 Red Brick Dust
Regular price
$6.77
$0.00
Unit price
per
An old conjure standby, red brick dust is seriously old-school, greatly predating as a curio or preparation all the perfumed powders and oils with nice names.

It's got a variety of uses, turning up in protective workings and in "recipes" to attract paying customers (or just money more generally). Within Haitian vodou, it has been used sometimes, in some houses, to draw the veve of the "hot" Petro mysteres.

In the Creole kitchens of early New Orleans when many meals were cooked in huge cast iron pots over open fireplaces, new pots had to be seasoned in stages before they could be cooked in. Rubbing the inside down with red brick dust was one of the stages, right before it got a good greasing with lard. I don't actually have any idea why, but if you know, please message me!

As with talcum and cascarilla, it's probably originally a New World replacement for minerals traditionally used in magical work that could no longer be had so far from home in the diaspora. Rootwork is always responsive to and intertwined with the actual physical geography of the worker and the culture. Literally, the dirt under your feet matters. Not every spirit of every root and stone and bone lives just everywhere in the world all at once --but they may well have cousins that can take their place in a different locale!


Small Corked Bottle: Glass vial shape/size may vary depending on my supplier, but the 20 ml vial holds a volume of just over half a fluid ounce (same amount as my 1/2 oz  oil bottles). By weight, it holds just under an ounce of red brick dust.
Small Bag: 2x3 plastic zipper bag, contains ~ 1 ounce
LEGALESE
: As required by law, all items are sold as curios to preserve and teach the traditions of folklore and popular religion. I don't sell anything I don't use myself, though, and quite a few customers over the years have sworn by my traditional formulas since I started selling them in 2002.
Shipping/Handling/FAQs:
 Please click over to the Shipping/Handling/FAQs tab to read about handling times, shipping notification, and other terms of service, as your use of this site indicates your acceptance of these published terms, which include but are not limited to the following.
By using this site, you are stating that you understand and agree to our Terms of Service, including the following highlights:
handling times start at five business days minimum

 

for all

 

items  (excludes weekends and holidays)

posted handling times are estimates, not guarantees, and will vary depending on order size and amount of customization involved

all sales are final; we do not accept returns

any refunds must be initiated by us; chargebacks are considered theft

we will send a notification email when we purchase your shipping label for your packaged order, so when it's ready to ship, you know as soon as we know

we are not able to provide updates during order processing beyond this notification

any unusual issues affecting handling times will be announced on our website and social media channels

we don't send instructions for anything that doesn't say it comes with instructions, but there's lots of info at the blog
See the TOS page for more details.
---
Share this Product
---