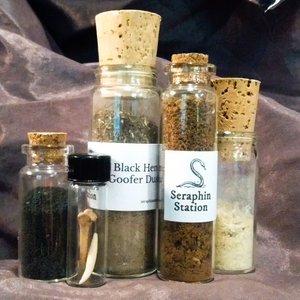 Money Drawing Powder
Regular price
$5.00
$0.00
Unit price
per
My powders are made with finely ground herbs and dressed with essential oils in an all-natural, non-talcum base. They are made to draw sigils or symbols on your altar, to sprinkle around target areas for folks to walk in, to add a pinch to shoes, pockets, carpets, and the like, to add to a mojo bag or spell jar, etc. It is traditional to call your target's name, and/or speak (or at least murmur) your petition or pray as you deploy them, and in cases where you need the target to walk on them, you should mix them with some local dirt so they blend in.

They aren't cosmetics, aren't made in accordance with cosmetic industry guidelines for ingredients or labeling, are not talcum-based, and will be grittier/coarser than talcum-based powders.  They have actual powdered herbs in them, and if you think about it for a second you will realize that actual powdered herbs often don't make good cosmetics.
So if you are expecting a powder that is as finely ground as a cosmetic and that will make your skin really smooth, you will be disappointed with my powders. Some people do make talcum-based powders, which are quite traditional; it's my non-talcum powders that are actually the less traditional version, but I have health reasons for not using them or making them.  
For the traditional formulas that actually need a mineral component for various reasons, I use something besides talcum to meet this traditional requirement (often cosmetic-grade mica powder, which can be had in various colors these days and thus serve double duty as a coloring agent).
Read more about the history and theory behind hoodoo powders, how to use them, and about my approach to them via the Education section, especially this post.
Options:
Corked Bottle: Glass vial/bottle shape may vary depending on my supplier, but these will contain 1/2 oz by weight. In some cases that might mean the vial/bottle will not appear to be full since some containers are designed to leave headroom and since contents can settle during shipping. But these are packed by weight, not volume, so you're getting the full weight no matter the size and shape of the vial/bottle.
Small Bag: Resealable plastic bag contains 1 oz.
Medium Bag: Resealable plastic bag contains 3 oz.
USAGE: Powders are for prayer and ritual use; they are not cosmetics and they are not food. Do not sprinkle them on food; that's not how hoodoo powders work. Yes, people ask me this. If you need suggestions on how to use oils, powders, and bath crystals in the conjure tradition, see the Education link up top.

LEGALESE
: As required by law, all items are sold as curios to preserve and teach the traditions of folklore and popular religion. I don't sell anything I don't use myself, though, and quite a few customers over the years have sworn by my traditional formulas since I started selling them in 2002.
Shipping/Handling/FAQs:
 Please click over to the Shipping/Handling/FAQs tab to read about handling times, shipping notification, and other terms of service, as your use of this site indicates your acceptance of these published terms, which include but are not limited to the following.
By using this site, you are stating that you understand and agree to our Terms of Service, including the following highlights:
handling times start at five business days minimum

 

for all

 

items  (excludes weekends and holidays)

posted handling times are estimates, not guarantees, and will vary depending on order size and amount of customization involved

all sales are final; we do not accept returns

any refunds must be initiated by us; chargebacks are considered theft

we will send a notification email when we purchase your shipping label for your packaged order, so when it's ready to ship, you know as soon as we know

we are not able to provide updates during order processing beyond this notification

any unusual issues affecting handling times will be announced on our website and social media channels

we don't send instructions for anything that doesn't say it comes with instructions, but there's lots of info at the blog
See the TOS page for more details.
---
Share this Product
---