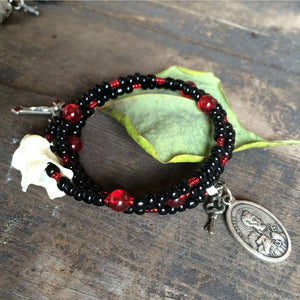 Bone and Glass Rosary Chaplet Talisman Bracelet, Legba, saints, Road Opener
Regular price
$37.00
$0.00
Unit price
per
Made with emblems and symbols associated with Road Opening and removing obstacles in folk tradition, including a vertebra bead (unknown, found in the woods on my farm), a tiny skeleton key charm, a double-sided pewter medal of St. Peter and St. Paul (from Italy), and a pewter crucifix with red enamel detailing (from Italy).
St. Peter was appointed by Christ as the first pope of the church, and the keys signify his authority as its first prelate and the authority of the church to bind and loose -- basically to open and close the gates of heaven. This is essentially what gives the church the authority to administer the sacrament of reconciliation and thus forgive sins.

This key symbolism makes it easy to see why St. Peter is called upon in some folk traditions and religions to remove obstacles and open doors that need opening. This explains how St. Peter is associated with the lwa Legba in some houses in Haitian and New World vodou, as Legba rules all doors and roads. Accordingly, this chaplet bracelet could also serve as a devotional item to honor Legba.

You'll receive the specific item pictured. As it's made with stainless steel memory wire, it's one-size-fits-all, but if you have questions about customization, feel free to message me.

All spiritual and devotional pieces are made with care and intent with respect to traditional origins, lore, and practices, all of which I'm happy to answer questions about.
LEGALESE: As required by law, all items are sold as curios to preserve and teach the traditions of folklore and popular religion. I don't sell anything I don't use myself, though, and quite a few customers over the years have sworn by my traditional formulas since I started selling them in 2002.

Shipping/Handling/FAQs:
 Please click over to the Shipping/Handling/FAQs tab to read about handling times, shipping notification, and other terms of service, as your use of this site indicates your acceptance of these published terms, which include but are not limited to the following.
By using this site, you are stating that you understand and agree to our Terms of Service, including the following highlights:
handling times start at five business days minimum

 

for all

 

items  (excludes weekends and holidays)

posted handling times are estimates, not guarantees, and will vary depending on order size and amount of customization involved

all sales are final; we do not accept returns

any refunds must be initiated by us; chargebacks are considered theft

we will send a notification email when we purchase your shipping label for your packaged order, so when it's ready to ship, you know as soon as we know

we are not able to provide updates during order processing beyond this notification

any unusual issues affecting handling times will be announced on our website and social media channels

we don't send instructions for anything that doesn't say it comes with instructions, but there's lots of info at the blog
See the TOS page for more details.
---
Share this Product
---