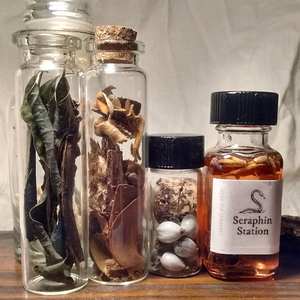 Chrysalis Oil
Regular price
$16.00
$0.00
Unit price
per
This is a specialty oil I designed for those who have loved and lost and need a little healing so they can get back out there and find new love.
Chrysalis combines healing and love-drawing using herbs and essences mostly from the hoodoo tradition (though it includes a few ingredients not ultra common in hoodoo, included based on my own study and experience with native and local plants). I designed it for those folks who are older, have "loved and lost," and have sometimes been single for a while or even divorced or widowed. 
It combines elements to draw true steady love with elements to heal from past heartache, and it fosters self-respect and esteem/optimism as well (very often an issue for clients who are looking for new love later in life, even when they think it isn't).
It contains ingredients designed to boost optimism, to balance physical and emotional energy, and to draw love from people who have it to give and are serious about relationships. These include herbs, roots, and flakes of real 24-karat gold, in keeping with the symbolism of the chrysalis.
It can make part of a good "pre-Friday-night-out" ritual. Use it to dress candles you burn during your spiritual baths, or use it to feed your Attraction or Love Drawing mojo bag. It's a bit citrus, a bit energizing, a bit earthy, a bit healing - a nice, subtle-steady-energy, balanced attraction/healing blend. 
LEGALESE
: As required by law, all items are sold as curios to preserve and teach the traditions of folklore and popular religion. I don't sell anything I don't use myself, though, and quite a few customers over the years have sworn by my traditional formulas since I started selling them in 2002.
By using this site, you are stating that you understand and agree to our Terms of Service, including the following highlights:
handling times start at five business days minimum

 

for all

 

items  (excludes weekends and holidays)

posted handling times are estimates, not guarantees, and will vary depending on order size and amount of customization involved

all sales are final; we do not accept returns

any refunds must be initiated by us; chargebacks are considered theft

we will send a notification email when we purchase your shipping label for your packaged order, so when it's ready to ship, you know as soon as we know

we are not able to provide updates during order processing beyond this notification

any unusual issues affecting handling times will be announced on our website and social media channels

we don't send instructions for anything that doesn't say it comes with instructions, but there's lots of info at the blog
See the TOS page for more details.
---
Share this Product
---