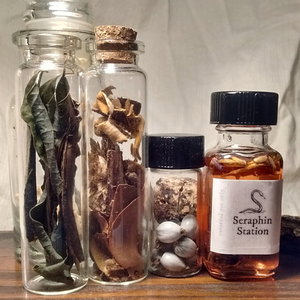 Blessing Oil
Regular price
$12.00
$0.00
Unit price
per
Blessing formulas in the conjure tradition are generally Biblical in nature/origin, containing ingredients mentioned in the Bible that are designed to gain the blessings of God, heaven, and/or some other personage or entity who is in a position to bestow blessings.

It will, however, work just fine if you yourself are not Judeo-Christian - I only mention this because lots of people who are new to this stuff just type whatever keywords into Google and then end up forming some inaccurate ideas based on search results. And as a rootworker, I see the fallout from these inaccurate ideas all the time. And I just had another go-round on something like this with a brand new client who really had the wrong idea because they were used to their seller describing everything as "hoodoo voodoo pagan."It is *not* Wiccan or pagan and it doesn't have anything to do with sorcery or any other religion or tradition. It has distinct Judeo-Christian elements if it is indeed hoodoo oil and the seller didn't just slap the word hoodoo into the listing for SEO purposes.

Folks often use this when they're starting a new endeavor that they want to get going on the right foot, and it's popular for things like blessing a new home or a person who's job hunting.

It's also useful if you feel like things are a little off but you know you don't have a full-on Uncrossing situation on your hands. Maybe you just need to refresh the atmosphere a little bit and get refocused and restarted. Maybe your anxiety is creeping around the edges and getting the better of you. A simple, focused Blessing rite can help you shake off the funk and dedicate yourself anew to your endeavors - even one as simple as burning a dressed candle.

Half-ounce bottle.
LEGALESE
: As required by law, all items are sold as curios to preserve and teach the traditions of folklore and popular religion. I don't sell anything I don't use myself, though, and quite a few customers over the years have sworn by my traditional formulas since I started selling them in 2002.
By using this site, you are stating that you understand and agree to our Terms of Service, including the following highlights:
handling times start at five business days minimum

 

for all

 

items  (excludes weekends and holidays)

posted handling times are estimates, not guarantees, and will vary depending on order size and amount of customization involved

all sales are final; we do not accept returns

any refunds must be initiated by us; chargebacks are considered theft

we will send a notification email when we purchase your shipping label for your packaged order, so when it's ready to ship, you know as soon as we know

we are not able to provide updates during order processing beyond this notification

any unusual issues affecting handling times will be announced on our website and social media channels

we don't send instructions for anything that doesn't say it comes with instructions, but there's lots of info at the blog
See the TOS page for more details.
---
Share this Product
---