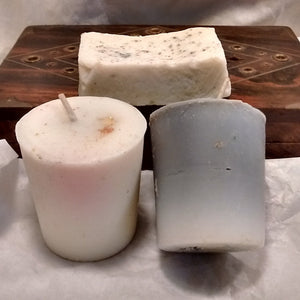 Misfit Votive Candles
Regular price
$2.50
$0.00
Unit price
per
My votive candles already have the essential oils and herbs incorporated into them during the candle's creation - no need to fix or dress them, so they're great to have on hand for "emergencies" and travel, and they are just generally speaking pretty convenient, ready to go out of the box as soon as you add your petition/prayer and any specifics like name papers or certain curios you're working with in your situation.
But making candles requires a ridiculous amount of testing sometimes - if you change your supplier or the amount of dye you use or the type of wax or the pouring temp or your wick or your batch of patchouli essential oil (or if you don't hold your mouth just right), the product will be affected. And then of course, not all oils work equally well in candles or have equal "staying power" scent-wise, and every type of candle colorant on earth will fade if the candle's exposed to UV light.

So candle makers usually have a few candles around somewhere that aren't out there with the regular stock because they were tests, or the candle took a beating and has a few nicks in it, or the fragrance just wasn't quite what they were going for, or the colors bled into each other or faded, or whatever.

As candles go, they're perfectly serviceable. They do the job. They just might not be the prettiest little things you've ever seen. But then again, who is after a year like 2020?

So if you don't mind some faded colors or a few scratches or gouges and you want to give these guinea pigs and road-weary travelers a good home, you can pick some up here.
Please note: if you're new to my hand-poured candles, these are not intended to be mood lighting or air freshening. I use essential oils, not fragrace oils, unless I disclose otherwise in a candle's listing, and EOs will pretty much never smell like Bath & Body Works. Ingredients are chosen because they do a certain job or have a certain reputation in folk magic or folk religion; they are not chosen for their looks or their scents.
And while you can reasonably expect some "cold throw," usually, meaning you can smell the essential oils when you take the candle out of its packaging and smell it, you should not expect much in the way of "hot throw," meaning the candle is unlikely to fill the room with its fragrance as you burn it. That's not the job these were designed for.
They're more like getting a vigil candle and fixing/dressing it with oils. As the oils you dressed it with heat up, you may well smell them, or you may not, depending on environment, what oils were used, and a number of other things. But you would not expect to buy a vigil light, fix and dress it with condition oils, sprinkle a few herbs on it, and have the room smell like the mall a short while later. At least I hope you wouldn't, 'cause that's not what vigil candles are for either :)
Votives are a generous 2 ounce size. They must be burned in a votive holder, which isn't included. The snugger the votive holder, the more burn time you'll get out of them. Burn time will also be affected by temperature, any drafts in your environment, anything else you add or change (like oils or herbs). Under ideal conditions, these could burn for 8-10 hours or more. Under less than ideal conditions, you could still get 6 or more hours out of them as long as your votive holder is reasonably snug fitting and you trim your wick.

SHIPPING: Candles are in a special shipping category distinct from most shop items. See Shipping Rates here.
LEGALESE: As required by law, all items are sold as curios to preserve and teach the traditions of folklore and popular religion. I don't sell anything I don't use myself, though, and quite a few customers over the years have sworn by my traditional formulas since I started selling them in 2002.

Shipping/Handling/FAQs:
 Please click over to the Shipping/Handling/FAQs tab to read about handling times, shipping notification, and other terms of service, as your use of this site indicates your acceptance of these published terms, which include but are not limited to the following.
By using this site, you are stating that you understand and agree to our Terms of Service, including the following highlights:
handling times start at five business days minimum

 

for all

 

items  (excludes weekends and holidays)

posted handling times are estimates, not guarantees, and will vary depending on order size and amount of customization involved

all sales are final; we do not accept returns

any refunds must be initiated by us; chargebacks are considered theft

we will send a notification email when we purchase your shipping label for your packaged order, so when it's ready to ship, you know as soon as we know

we are not able to provide updates during order processing beyond this notification

any unusual issues affecting handling times will be announced on our website and social media channels

we don't send instructions for anything that doesn't say it comes with instructions, but there's lots of info at the blog
See the TOS page for more details.
---
Share this Product
---