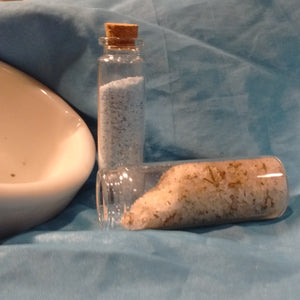 Uncrossing Floorwash & Bath Crystals
Regular price
$10.00
$0.00
Unit price
per
Uncrossing formulas are used in the hoodoo tradition to remove crossed conditions; that is, to take off any cursing, crossing, tricking, jinxing, or hexing work that somebody might have aimed at you or that you might have encountered.

The good old Uncrossing bath is certainly one of the core workings of conjure, historically, and if there were a Home Ec class for hoodoo, being able to make one up would probably be a requirement for graduation. Everybody should be able to make a simple three-ingredient uncrossing bath and administer it, just like everybody ought to be able to make a pot of buttered noodles. But for those new to spiritual baths and those who can't/don't keep many herbs/oils around, prepared Uncrossing formulas are nice and convenient.
Obviously these crystals are used by folks who want to take a spiritual bath or do a traditional floor-scrubbing of their home (or workplace, or wherever).
But you can also use bath crystals in situations where liquid deployment of the formula is desired but oils are impractical, too messy, or too expensive. Don't coat all of your doorknobs or windowsills with oil - dissolve bath crystals and use the water for that kind of thing. Moistening an envelope flap with oil could leave suspicious and unattractive oily marks; using water with crystals dissolved in it is better. Using your used bathwater to moisten it might be even better, depending on the work and who's receiving the envelope.
PACKAGING
Resealable packets contain app. 3 ounces of crystals by weight (weight will vary slightly depending on ingredients, as some are denser than others). One packet contains enough bath crystals for three full tub baths or three large mop buckets of floor wash. Use less for smaller spaces, laundry rinse, and stand-up/basin baths.
USAGE: Downloadable instructions are available from the Education link in the top menu.
LEGALESE
: As required by law, all items are sold as curios to preserve and teach the traditions of folklore and popular religion. I don't sell anything I don't use myself, though, and quite a few customers over the years have sworn by my traditional formulas since I started selling them in 2002.
Shipping/Handling/FAQs:
 Please click over to the Shipping/Handling/FAQs tab to read about handling times, shipping notification, and other terms of service, as your use of this site indicates your acceptance of these published terms, which include but are not limited to the following.
By using this site, you are stating that you understand and agree to our Terms of Service, including the following highlights:
handling times start at five business days minimum

 

for all

 

items  (excludes weekends and holidays)

posted handling times are estimates, not guarantees, and will vary depending on order size and amount of customization involved

all sales are final; we do not accept returns

any refunds must be initiated by us; chargebacks are considered theft

we will send a notification email when we purchase your shipping label for your packaged order, so when it's ready to ship, you know as soon as we know

we are not able to provide updates during order processing beyond this notification

any unusual issues affecting handling times will be announced on our website and social media channels

we don't send instructions for anything that doesn't say it comes with instructions, but there's lots of info at the blog
See the TOS page for more details.
---
Share this Product
---