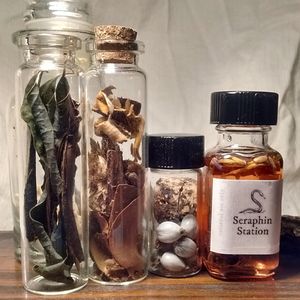 Seven Rays of the Archangels Esoteric Oil
Regular price
$16.00
$0.00
Unit price
per
High-quality, hand-blended, and magically charged Seven Rays of the Archangels oil contains high quality essential oils and natural herbs and resins associated with the archangels. This is an esoteric (and largely Biblical-type) oil rather than a traditional hoodoo formula, though it can absolutely work within a hoodoo framework.

Depending on which teaching of which esoteric school you read, the archangels' names vary. For this oil, these angels are

Michael (here often associated with power, protection, and faith)
Jophiel (love and wisdom)
Chamuel (creativity)
Gabriel (harmony)
Raphael (intellect and understanding intricacy)
Uriel (devotion and grace)
Zadkiel (freedom, some schools say magic also)

There is a lot of info out there, as many different mystery schools have teachings related to the Seven Rays. (Some schools teach a feminine counterpart to the archangels as well, but as someone who studies the history of saints and angels, I think it's important to note that according to thousands of years of doctrine as well as folk practice, angels do not have any human gender or sex at all -- at least not until they fall. By nature, they transcend human gender binaries even when artists imagine them as gendered.)

This oil can be used with prayer for spiritual growth and progression and for strengthening of the body of light. You can "target" areas in your body of light, build up "weak spots," and do targeted chakra work by focusing on one Ray or another in your prayers and meditations. Energy workers and light workers can use this oil to do work on behalf of others as well, so it's a powerful tool in the spiritual toolbox of the healer.

See the blog for more information on saints and rosaries in esoteric practices and traditions, and for more info on the Seven Rays traditions.

Half-ounce bottle.
USAGE
: Oils are for prayer and ritual use; they are not cosmetics or perfumes. While some customers do use some dressing oils as anointing oils (which is not the same thing as wearing a perfume or cologne), they are careful to do a skin test first, since they know that all-natural does not equal hypoallergenic. If you need suggestions on how to use condition and anointing oils in the conjure tradition, see the Education link up top.
Shipping/Handling/FAQs:
 Please click over to the Shipping/Handling/FAQs tab to read about handling times, shipping notification, and other terms of service, as your use of this site indicates your acceptance of these published terms, which include but are not limited to the following.
By using this site, you are stating that you understand and agree to our Terms of Service, including the following highlights:
handling times start at five business days minimum

 

for all

 

items  (excludes weekends and holidays)

posted handling times are estimates, not guarantees, and will vary depending on order size and amount of customization involved

all sales are final; we do not accept returns

any refunds must be initiated by us; chargebacks are considered theft

we will send a notification email when we purchase your shipping label for your packaged order, so when it's ready to ship, you know as soon as we know

we are not able to provide updates during order processing beyond this notification

any unusual issues affecting handling times will be announced on our website and social media channels

we don't send instructions for anything that doesn't say it comes with instructions, but there's lots of info at the blog
See the TOS page for more details.
---
Share this Product
---