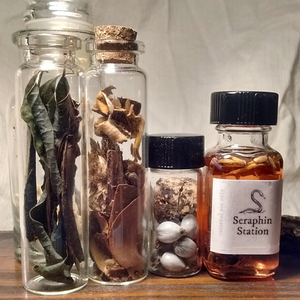 Triple Strength Love Whammy Oil
Regular price
$25.00
$0.00
Unit price
per
Triple Strength Love Whammy Oil contains 21 different appropriate essential oils and herbs and minerals.  This half-ounce bottle is jam packed with conjure goodness!
This formula is an extra strength love/"follow me" type formula; it has a hint of compelling and glamor power in it and a lot of attraction and love drawing.  It's designed for when you already have a target in mind, rather than to draw an unknown or new lover, though I have had clients tell me that they have used it "out on the town" and received more attention from strangers.
According to the old traditions, some herbs and curios work for women trying to draw men and others for men to draw women, and then there are herbs that are less specific. Despite the modern-sounding name, this formula is built on very traditional herbal correspondences and profiles, and traditionally that means that the ingredients will change ever so slightly depending on whether your target is male or female.
In modern usage, not all of these traditional categories are really a great fit all the time, and I've been experimenting for years now to suss out the best way to adapt. In some cases it's a different herb altogether, but in many cases it depends on the individuals in question and/or the situation, so feel free to write if you do not fall into the category of either "men seeking women" or "women seeking men," and I'm happy to talk with you about what you have going on and the best way to tailor this oil for your needs. You can use the customization info form to tell me what's up.
Each bottle is made one at a time, so tweaking the ingredients is not a big deal (though please realize that custom-finished products do not ship overnight and note handling time before ordering!).This is a great multi-purpose formula for use with a honey jar or other container spell when you need to heat up the relationship and want to throw just a hint of the "and we'll be doing this *my* way" vibe into your working.
Scent-wise it's quite a sweet oil. Folks who like floral scents should love this one.
Half-ounce bottle.
LEGALESE
: As required by law, all items are sold as curios to preserve and teach the traditions of folklore and popular religion. I don't sell anything I don't use myself, though, and quite a few customers over the years have sworn by my traditional formulas since I started selling them in 2002.
Shipping/Handling/FAQs:
 Please click over to the Shipping/Handling/FAQs tab to read about handling times, shipping notification, and other terms of service, as your use of this site indicates your acceptance of these published terms, which include but are not limited to the following.
By using this site, you are stating that you understand and agree to our Terms of Service, including the following highlights:
handling times start at five business days minimum

 

for all

 

items  (excludes weekends and holidays)

posted handling times are estimates, not guarantees, and will vary depending on order size and amount of customization involved

all sales are final; we do not accept returns

any refunds must be initiated by us; chargebacks are considered theft

we will send a notification email when we purchase your shipping label for your packaged order, so when it's ready to ship, you know as soon as we know

we are not able to provide updates during order processing beyond this notification

any unusual issues affecting handling times will be announced on our website and social media channels

we don't send instructions for anything that doesn't say it comes with instructions, but there's lots of info at the blog
See the TOS page for more details.
---
Share this Product
---