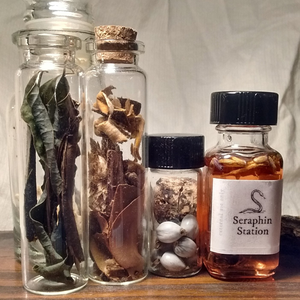 St. Therese - Little Flower Oil
Regular price
$12.00
$0.00
Unit price
per
St. Therese of Lisieux was, quite frankly, somewhat obnoxious.
She struggled with many difficulties, emotional outbursts, and losses as a young girl, including her mother's death to cancer when she was only four. A spiritually precocious child in many ways, in others she was still very much a child - one who was spoiled by her widower father, one who would cry incessantly if she thought you looked at her wrong, one who would get more upset at the fact that she was crying... and so cry some more.
When her older sister came of age and joined a convent, Therese felt she'd lost her, too. Determined to become a nun herself, she was repeatedly denied because of her youth, but she eventually made such a spectacle of herself in an audience with the Pope (during which she had been forbidden to speak and spoke anyway) that a vicar who'd seen her was impressed by her determination. So she basically turned her obnoxiousness into a virtue, if you want to think about it that way, and she was finally admitted to the convent even though she was not yet 16.
Her sufferings and sacrifices didn't end with that. Convents could be full of politics and pettiness, too, and then her father fell grievously ill, lost his reason, and became gossip fodder in his town. Confined to the convent as a cloistered novice, Therese couldn't even visit him. She could never leave the convent, never mind become a missionary or perform great deeds to show her love for God. She had to find a way to holiness in a small, quiet, ordinary life.
She wrote in her journal, published after her death, "It is impossible for me to grow bigger, so I put up with myself as I am, with all my countless faults. But I will look for some means of going to heaven by a little way which is very short and very straight, a little way that is quite new."
That way, she ultimately determined, was a childlike spirituality and devotion to the love of Jesus and a life of small, sometimes even hidden deeds of love and sacrifice (which were often rather humiliating considering that some of the nuns she was cloistered with were incredibly petty).
After a long, painful illness, she died of tuberculosis in 1897 when she was only 24. On her deathbed, she took comfort in thinking of the work she could do after her death to help those still living on earth. She wrote, "I will return. I will spend my heaven doing good on earth. I will let fall a shower of roses."" 
And she has developed a reputation for keeping that promise. Her simple model of spirituality and her intercession on behalf of the faithful has made her one of the most beloved saints of modern times. She was canonized in 1925, which is an unusually short route to sainthood, and she was proclaimed a Doctor of the Church in 1997, one of only four women to ever earn that recognition.
She is the patron saint of the sick, of florists, of missions, and of those struggling to accept the realities of life with grace and an attitude of love. Pope Francis famously said that he doesn't ask her to solve his problems but to help him accept them. 
Read more about her life at the Society of the Little Flower.
Use this oil when honoring St. Therese, when calling on her to intercede for you, and when you need inspiration to maintain your dignity and faith in the face of pettiness, strife, and misfortune. 
Half-ounce bottle.
---
Share this Product
---