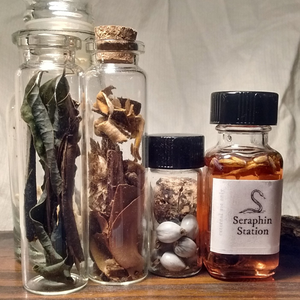 St. Dymphna Oil
Regular price
$12.00
$0.00
Unit price
per
This listing is for a half-ounce bottle of Saint Dymphna Oil, containing appropriate herbs and essential oils for honoring her and invoking her aid.

St. Dymphna is a very popular saint to call on against madness, anxiety, depression, and epilepsy. She's also the patron saint of runaways and survivors of incest and sexual abuse.

The martyrologies are chock full of murderous guys who like to kill totally peaceful Christians in very gruesome ways, but even with all the bloodshed and decapitation and suffering in these annals, St. Dymphna's father still manages to stand out as one of the biggest ass-hats of them all. When sources say St. Dymphna had a troubled home life that she fled, what they mean is that her widowed, grief-ravaged father decided the only person he could marry after his beloved wife died was his young teenage daughter. And when she said no and fled the country, he caught up with her and cut off her head.

So that's why she's invoked against madness, because she steadfastly faced the madness of her father, keeping her cool in the face of such onslaught, and was martyred in the preservation of her virginity, which she had dedicated to Christ.

Epileptics, the insane, and the possessed have been said to receive miraculous cures at Dymphna's tomb, and in older literature and art especially, she's portrayed as vanquishing a demon at her feet and is given the title of Demon Slayer. You can't tell it from modern holy cards these days, but Dymphna is kind of a badass. Don't let the demure hint of a smile on her placid face fool you. She's a strong ally to have on your side.

To read more about her and about working with her, visit the blog and follow the tags.
Half-ounce bottle.
LEGALESE
: As required by law, all items are sold as curios to preserve and teach the traditions of folklore and popular religion. I don't sell anything I don't use myself, though, and quite a few customers over the years have sworn by my traditional formulas since I started selling them in 2002.
Shipping/Handling/FAQs:
 Please click over to the Shipping/Handling/FAQs tab to read about handling times, shipping notification, and other terms of service, as your use of this site indicates your acceptance of these published terms, which include but are not limited to the following.
By using this site, you are stating that you understand and agree to our Terms of Service, including the following highlights:
handling times start at five business days minimum

 

for all

 

items  (excludes weekends and holidays)

posted handling times are estimates, not guarantees, and will vary depending on order size and amount of customization involved

all sales are final; we do not accept returns

any refunds must be initiated by us; chargebacks are considered theft

we will send a notification email when we purchase your shipping label for your packaged order, so when it's ready to ship, you know as soon as we know

we are not able to provide updates during order processing beyond this notification

any unusual issues affecting handling times will be announced on our website and social media channels

we don't send instructions for anything that doesn't say it comes with instructions, but there's lots of info at the blog
See the TOS page for more details.
---
Share this Product
---