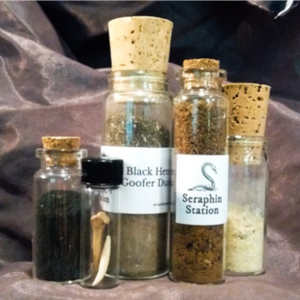 Hot Foot Powder
Regular price
$5.00
$0.00
Unit price
per
Hot Foot powder is among the oldest rootwork recipes there are, long predating the era of mail-order catalogs and perfumed oils and things with cute names - long predating bottled oils at all, in fact. It's about as raw and old-school as it gets.

There are probably as many Hot Foot recipes as there are rootworkers, but they all contain ingredients intended to make a target leave their place of residence or where they're staying or working, even move out of the area entirely. This is accomplished by various irritating and agitating influences that might bring more or less misery to the target as they're working, depending on the recipe, the intent of the worker, and the mode of deployment.

My Hot Foot formula includes various powdered insect bits and peppers, among other things, so wash your hands after using it and don't get it near children, pets, your eyes, nose, mouth, or anybody who isn't your target. If you are especially sensitive and/or have allergies or asthma, you should probably just wear a dust mask when you handle this so there's no risk of you inhaling any fine airborne particles.


Corked Bottle: Glass vial/bottle shape may vary depending on my supplier, but these will contain 1/2 oz by weight. In some cases that might mean the vial/bottle will not appear to be full since some containers are designed to leave headroom and since contents can settle during shipping. But these are packed by weight, not volume, so you're getting the full half-ounce by weight no matter the size and shape of the vial/bottle.
Small Bag: Resealable plastic bag contains 1 oz.
Medium Bag: Resealable plastic bag contains 3 oz.
LEGALESE
: As required by law, all items are sold as curios to preserve and teach the traditions of folklore and popular religion. I don't sell anything I don't use myself, though, and quite a few customers over the years have sworn by my traditional formulas since I started selling them in 2002.
Shipping/Handling/FAQs:
 Please click over to the Shipping/Handling/FAQs tab to read about handling times, shipping notification, and other terms of service, as your use of this site indicates your acceptance of these published terms, which include but are not limited to the following.
By using this site, you are stating that you understand and agree to our Terms of Service, including the following highlights:
handling times start at five business days minimum

 

for all

 

items  (excludes weekends and holidays)

posted handling times are estimates, not guarantees, and will vary depending on order size and amount of customization involved

all sales are final; we do not accept returns

any refunds must be initiated by us; chargebacks are considered theft

we will send a notification email when we purchase your shipping label for your packaged order, so when it's ready to ship, you know as soon as we know

we are not able to provide updates during order processing beyond this notification

any unusual issues affecting handling times will be announced on our website and social media channels

we don't send instructions for anything that doesn't say it comes with instructions, but there's lots of info at the blog
See the TOS page for more details.
---
Share this Product
---