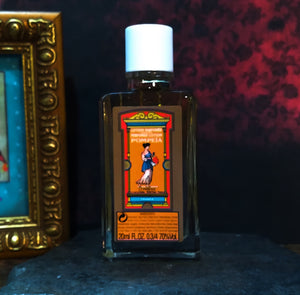 Lotion Pompeia
Regular price
$9.75
$0.00
Unit price
per
Lotion Pompeia is used in some traditions, particularly Santeria, Haitian Vodou, and Louisiana  Voodoo, as a spiritual cologne/water for love work, work to sweeten or influence others, as an offering to spirits and saints, and as ingredient in spiritual baths for cleansing, beauty, luck, blessings, and prosperity. It's the preferred perfume of the lwa Erzulie Freda, often used in spiritual baths taken under her aegis and presented to her as an offering.

While not a part of old-school deep South hoodoo, if you look at the ingredients from a hoodoo perspective, this is an excellent perfume for pretty much any kind of love work.
And there are even a few ingredients that are traditionally used in spiritual cleansing, though if I were using this as part of a spiritual cleansing rite, I'd probably add a few pinches of actual white clover flowers to it first. However, I do not use it as part of my own spiritual cleansing rites when I'm working non-denominationally, because this scent is extremely floral and I find I personally respond better to the lighter and more citrusy spiritual cleansing herbs combined with a mineral element (e.g. salt).
But if you're a serviteur of the lwa and making your spiritual bath in that context, and/or if you respond well to sweet florals in you spiritual cleansing blends, you might really like this.
A  little goes a long way. This is said to be eau de cologne strength. Maybe so, but if so, it's a pretty darned strong eau de cologne. It's probably pretty close to eau de toilette in strength. So you definitely do not need to pour the whole bottle over your head or anything like that - at least if you don't want to "smell like an officer's dog," as my great-grandmother would have put it. (An officer's dog smells very nice -- but you can definitely smell him coming from way down the block.)
Comes in a .75 oz sealed glass bottle.
NOTE: It is a perfume (or rather an eau de cologne) rather than what you usually think of when you think of a lotion. That means:
1. it is liquid and it does pour or splash, and
2. it is alcohol-based and thus cannot be shipped via regular USPS mail. Your package will have to ship USPS Parcel Select Ground, which is not famous for being fast, so plan accordingly.
Not eligible for international shipping. 
LEGALESE: As required by law, all items are sold as curios to preserve and teach the traditions of folklore and popular religion. I don't sell anything I don't use myself, though, and quite a few customers over the years have sworn by my traditional formulas since I started selling them in 2002.
Shipping/Handling/FAQs:
 Please click over to the Shipping/Handling/FAQs tab to read about handling times, shipping notification, and other terms of service, as your use of this site indicates your acceptance of these published terms, which include but are not limited to the following.
By using this site, you are stating that you understand and agree to our Terms of Service, including the following highlights:
handling times start at five business days minimum

 

for all

 

items  (excludes weekends and holidays)

posted handling times are estimates, not guarantees, and will vary depending on order size and amount of customization involved

all sales are final; we do not accept returns

any refunds must be initiated by us; chargebacks are considered theft

we will send a notification email when we purchase your shipping label for your packaged order, so when it's ready to ship, you know as soon as we know

we are not able to provide updates during order processing beyond this notification

any unusual issues affecting handling times will be announced on our website and social media channels

we don't send instructions for anything that doesn't say it comes with instructions, but there's lots of info at the blog
See the TOS page for more details.
---
Share this Product
---